Burn all the Empires

Name:

Jennifer


Age:

44


Gender:

Female


Location:

*waving* over here - Scotland

Contact
About
Hello!
I haven't a clue what to write in these sorts of things (it's the first time I've done one), so I'll just put a lot of random facts - some interesting, some not so interesting - you decide! Good luck if you make it to the end, it's longer than I expected it to be.
My INO Credentials:
Bob Brigade Leader - "WE DON'T TAKE NO SHIT!"
Founder of C.R.A.P, Official member of the INO Captionettes, I christened Gerards Hamster - Starbuck, and set-up a new house at Hogwarts especially for MCR and INO's called SnuffleButter!
C.V.
I have a BSc 2:1 Hons degree in Animal Science, went on to study Veterinary Medicine (I've always wanted to be a Vet), but after 2 years had to withdraw cause the damn fees were too much - BAH!
Now I'm exploring my other passion which is Films, I'm currently writing a number of Films (one very inspired by The Black Parade), and have applied to go to the New York Film Academy to do a short course in Filmmaking and Screenwriting - and god I'm excited.
I have lots of other 'strings to my bow', but I won't bore you with them now.
My Heroes
These are all people who have pushed boundaries, gone further than most in pursuit of what they believe, and never let anyone keep them down:
(it's a long list, I've included my favourite quotes from each of them and this list tells you a lot about me.)
MCR
(of course-incl Starbuck the Hamster - see Picture captions thread!),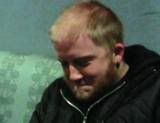 Q: Bob
"I get these urges to fuck off sometimes"
Q:Interviewer:
"What turns you on?"
Ray:
"Sleep"
KROQ Acoustic Christmas - 'Thank you for the Venom'
Q:Gerard:
"Ah,ah,ah,ah,ah,ohh,ohh,ahh,ahh,ahh,uhh,uhh,uhh,uhhhh,arghhhh,ARGHHH"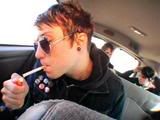 Q:Frank
"We're just old, fat men, really, and Sam Bayer's doing a great job of making us look halfway attractive."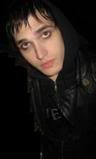 Q:Mikey
"There's less violence in the world when people are using Hula-Hoops."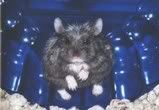 STARBUCK
Q:
"snuffle, snuffle"
GREEN DAY
Punk Rock Gods
Q: Billie Joe:
"A guy walks up to me and asks 'What's Punk?'. So I kick over a garbage can and say 'That's punk!'. So he kicks over a garbage can and says 'That's Punk?', and I say 'No that's trendy!"
Q: Mike Dirnt:
"Why are there no clouds in the sky?"
Tre Cool:
"Cause God Wants to see his favorite band play again!"
MICHAEL STIPE
Singer/Filmmaker
Q:
"Since every record surely contains something offensive to someone, sticker them all. Make this as meaningless as the bar code."

STEPHEN FRY
Author/Presenter/Actor/Filmmaker
Q:
"If ignorance is bliss, why aren't there more happy people in the world?"

DAMON ALBARN
Singer/Musician
Q:
"The Gorillaz cartoons seem more real to me than the actual people on TV. Because at least you know that there's some intelligence behind the cartoons, and there's a lot of work that's gone into it, so it can't all be just a lie."

SAM BAYER
Director
Q:
"Do my guns look good on camera?"

JOAQUIN PHOENIX
Actor/Animal rights activist - (I would marry him right this second - if he asked me!)
Q:
"When I go out with the ladies, I don't force them to pronounce my name. I tell them I like to go by the nickname of Kitten."
OSCAR WILDE
Author
Q:
"We're all in the gutter, only some of us are looking at the stars."

CHARLES DARWIN
(if any explanation needed you should be ashamed of yourself - or should have paid more attention in Science!)
Q:
"An American Monkey after getting drunk on Brandy would never touch it again, and thus is much wiser than most men."

JAMIE OLIVER
Chef/Campaigner for better nutrition in schools
Q:
"From quite an early age I realised the effect that good food can have on others."
I met him on my birthday 4th May in Central Park, New York!!!!!
PETER JACKSON
Director/Writer/Filmmaking Genius
Q:
"Don't worry. Gollum isn't going to be another Jar Jar Binks."

J R R TOLKIEN
Author
Q:
"If more of us valued food and cheer and song above hoarded gold, it would be a merrier world."
C S LEWIS
Author
Q:
"Friendship is born at that moment when one person says to another: What! You too? I thought I was the only one."
J K ROWLING
Author
Q:
"It takes a great deal of courage to stand up to your enemies, but even more to stand up to your friends."
THE BEATLES
(If they need an explanation you should be ashamed of yourself!)
Q: John Lennon
"Life is what happens to you while you're busy making other plans."
ZACH BRAFF
Actor/Writer/Director
Q:
"So, yeah, I mean, there is something universal about that feeling - that 20-something, what the hell am I going to do with my life, I'm lost and my parents are freaking me out, and what's the point? Every generation has a way of making that unique, but there are certain universals of that feeling."

PETER KAY
Comedian
Q:
"Why can't women put on mascara with their mouth closed?"

BILLY CONNOLLY
Comedian
Q:
"The human race has been set up. Someone, somewhere, is playing a practical joke on us. Apparently, women need to feel loved to have sex. Men need to have sex to feel loved. How do we ever get started?"

LOU AND ANDY
Characters from Little Britain
Q: Cut-down exert from the 'Chocolates' Sketch
Lou:
"Now which chocolate do you want?"
Andy:
"That one"
Lou:
Well you don't like dark chocolate"
Andy:
"Yeah, I know"
Lou:
"You always said that dark chocolate has a bitter edge to it, and lacks the oral ecstacy of its milkier cousin"
Andy:
"Yeah, I know"

THE MUPPETS
(especially Beaker - he talks so much sense)
Q:
"Meeh, meeh, meeh, mee"

DAVID ATTENBOROUGH
Naturalist
Q:
"It seems to me that the natural world is the greatest source of excitement; the greatest source of visual beauty; the greatest source of intellectual interest. It is the greatest source of so much in life that makes life worth living."

NIGELLA LAWSON
Chef
(for making food, and not-so-stick-thin women sexy again)
Q:
"Cooking is actually quite aggressive and controlling and sometimes, yes, there is an element of force-feeding going on."
FAVOURITE STUFF
Music:
All-time fav bands (INPO): My Chemical Romance, Green Day, REM, The Beatles.
Other bands: Blur, Gorillaz, Oasis, Pulp, Muse, Kaiser Chiefs, The Fratellis, The Killers, The Wombats, The View, Kula Shaker, Linkin Park.
I loved the BritPop scene in the mid-90's, and I don't think there will be anything like it again, it was awesome.
TV programs:
24,QI, Little Britain, The Muppet Show, Blackadder, Scrubs, Friends, Red Dwarf, River Cottage, anything with Jamie Oliver, Top Gear, CSI, House, Lost, Prison Break (yes I love US dramas!)
RANDOM FACTS
I've been told by several people on different occasions that I look like an Angel (I have very big blue eyes, and an innocent face) - if I find a decent pic of myself then I'll post it.
My first school packed lunch box had 'Fraggle Rock' on it.
I am deathly afraid of: clowns, spiders, heights and feet (they make me want to vomit).
Claim to Fame: My grandad was the Beatles Taxman (my mum thinks the song 'Taxman' was written about him!) - unfortunately he wasn't there Accountant otherwise we'd be very, very, very rich - boo hoo!
That's enough for now - I am progressively updating this but I'm not too hot with all the technology stuff, so it might take a while!
Bye
P.S. Congratulations, you made to the end of my profile, you must really like me or be very bored! PM me anytime if you fancy putting the world to rights!
MCR VIDEOS Made by ME!
The Alternative Version of IDLY!
If MCR were teachers for a day!
Welcome to the Black 'Widow' Parade!
MCR:
14/11/2006 = Glasgow Barrowlands, Scotland, UK
22/03/2007 = Birmingham NIA, England, UK
27/03/2007 = Glasgow SECC, Scotland, UK = I MET FRANK !!!!!!!!!!!!!!!!!!!!!!!!!!

Upcoming gigs:
03/05/2007 = Glen Falls, New York, USA - got cancelled - boohoo - naughty chickens!
04/05/2007 = Reading, PA, USA (my b'day!) - got cancelled - boohoo - naughty chickens! (But I did meet Jamie Oliver in Central Park!)
05/05/2007 = Bamboozle, New Jersey, USA
07/07/2007 = T in the Park, Scotland, UK