VampireCupcake
Name:

Megan


Age:

28


Gender:

Female


Location:

California

Contact
About
About Me
Hello. My name is Megan. I can be really hyper and random. I have the best friends ever! I dunno what I would do without them. I go to high school, which is honestly not that exciting. I cannot live without music. I love the color purple. I love kitty cats and movies, too. I absolutely love My Chemical Romance to an obvious state. They changed my life for the better and I wouldn't be that same without them. I mostly listen into rock, hard rock, metal, alternative, electronia, and techno. I love to read. My favorite series are Harry Potter and Twilight. I'll read anything by Ellen Hopkins and Chuck Palahniuk. My favorite fairytale is Alice in Wonderland. I'm obsessed with Tim Burton's creations and ideas. He is my muse and he is amazing. I think that Johnny Depp is the most amazing actor out there. His characters are all very diverse. I love Helena Bonham Carter with a passion. I love all the movies I've seen her in. Her acting style is unique and almost always eccentric and that's what I love about her.

"If for one minute you think you're better than a sixteen year old girl in a Green Day t-shirt, you are sorely mistaken. Remember the first time you went to a show and saw your favorite band. You wore their shirt, and sang every word. You didn't know anything about scene politics, haircuts, or what was cool. All you knew was that this music made you feel different from anyone you shared a locker with. Someone finally understood you. This is what music is about." -Gerard Way

The Ten Commandments of
My Chemical Romance

1. Thou shall not put a gun to thy lover's head.

2. Thou shall be willing to die for love.

3. Thou shall seek revenge on those who wrong you.

4. Thou shall be a demolition lover.

5. Thou shall unleash the bats.

6. Thou shall protect thy lover from everything. (even vampires)

7. Thou shall respect the lords:Gerard , Frank , Mikey , Bob , Ray.

8. Thou shall sing the holy hymns of My Chemical Romance.

9. Thou shall see beauty in bloody love.

10. Thou shall rock hard.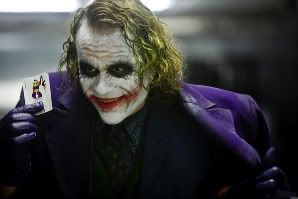 R.I.P Heath Ledger