Live Every Second
Name:

Joanie Listing


Age:

31


Gender:

Female


Location:

1000 Oceans from him </3

Contact
About
Favorite Bands:
1. Linkin Park
2. My Chemical Romace
3. TOKIO HOTEL
4.Green Day
5.AFI
6. CKY
7.Gym Class Heros
8. Panic! At The Disco
9. Fall Out Boy
10.The Killers
11.Matchbox 20
12. Franz Ferdinand
13.Red Jumpsuit Aparatus
14. Cartel
15.Ok Go
16. Relient K
17. Beck
18. 30 Seconds to Mars
19. Flyleaf
20.Blink 182
21. The Arctic Monkeys
22. NIN
Favorite Books:
1. Interview With the Vampire
2. The Vampire Lestat
3. Queen Of The Damned
4. Tale Of The Body Thief
5. Twilight
6. New Moon
7. Tithe
8. The Hunters Moon
9.Magic City
10. Notes From The Midnight Driver
11. Pandora
12. Harry Potter
13. The Vampire Aramand
14. Everything Is Illuminated
<3Quotes <3
"You can't be afraid of people who are willing to hurt you. Because if you fear life, you'll never live."-Chester Bennington
Interviewer: "Who has the worst habits in the band?"
Chester: "I would say that I'm probably the most annoying. There's a reason for that."
Mike: "NO!"
Brad: "C'mon Chester!"
Chester: "I'm always touching them in their privates.
Brad: "Yeah, Chester the Molester!"
Q: "If you were invisible for a day, what would you do?"
Mike: "Look at naked girls, of course."
Chester: "Yeah, We really like each other"
Mike: "Well he likes me, but I can't stand him"
Chester: "*In teary voice* Well, I guess not then!"
Interviewer: "You recently went double platinum, you sold over two million records, what do you have to say?"
Phoenix: "I know my mom bought a couple of copies, but not two million."
Chester: "I'm a big dork."
Mike: "You have a big dork too."
Chester: "Yes, I know."
Chester: "better get my shirt... im a little self-conscious of the lack of body, you know what im saying... see my goal is to eventually cover myself in tattoos so i dont have to fuckin work out anymore.. cuz im a lazy motherfucker..."
mike: "i was gunna say, since when did you work out?"
chester: "exactly..."
"What do you mean we walked around dressed like girls? We walked around in our own clothes they just happened to be dresses."
- Billie Joe Armstrong
"Green day is like sex, when were good, were really good, when were bad . . . were still pretty damn good."
- Mike Dirnt
Ville: Yo
Bam: What'd you do?
Ville: What?
Bam: What the fuck'd you do?
Ville: What did I do now?
Bam: You chopped you hair off!
Ville: Of course. Now you can call me the dark idol
ville: "about... 98 point half percent of mtv is based on bare asses. so i thought we'd do some, like, satanical stuff"
Ville: We are now in the grand ballroom. We can film in here but for some reason we can't film the celiing. *covers camera* Watch it
Ville:"Yo Bam Bam."
Bam:"Yo."
Ville:"What the fuck are you doing?"
Bam:"Yo, look at my Andy McCoy belt that I got."
Ville:"Oh, it's beautiful. I'm so sorry for the...The...Get the fuck up."
Bam:"Look how cool that is though. It's totally Andy McCoy."
Ville"I don't really care about Andy, I'm not interested in your fucking belt, I'm interested in the booze in your fucking mini-bar."
Camera man: "Did you read the new Ellen Degeneres book?"
Frank: "Yeah."
Camera man: "What did you think?"
Frank: "It made me a fucking lesbian!"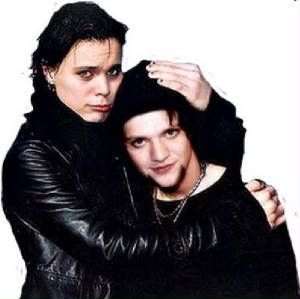 Vam love is sexy.
The hottest twins in the world. Boondock Saints for life!
Just luverly Tre.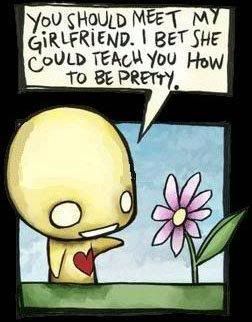 She knows those are for her. =)