Meeshell
Name:

Michelle


Age:

30


Gender:

Female


Location:

the island of misfit toys

Contact
About
Lycia:

MICHELLE. YOU IGNORANT PERSON. I LOVE YOU. DON'T YOU EVER FORGET IT.
Hi! I'm michelle! i love music. thats about it. oh, and im weird. THATS it.
Teams:
We Stalk the Sherif
Hi to the Camera Frank
WAYT:Randomness (founder)
Insanity! (founder)
Glomp in Business
Cyber Friends XD
Member of the MCRmy, Franktastic Crew, Fro Parade, and Muffin Mafia.
INO Wifey: Caroline

II

INO Cousin: Kitty

II

INO Sister: Mallika INO Twin: Tori
WAYT Family FTW::We Give a Crap b/c our Real Families Don't.
Faith In Gerard
92% of the teen population would be dead if Abercrombie and Fitch decided breathing wasn't cool. Put this is your profile if you are one of the 8% who would be laughing hysterically instead.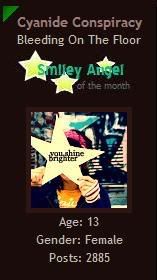 Photos