xXxgerardxloverxXx
Name:

xXxGERARDxLOVERxXx


Age:

31


Gender:

Female


Location:

Gerards Jeans...

Contact
About
Hey Im Sierra. I go to Kealing Middle School. I like to act younger then my age because its fun to be crazy and random. I usually am a cool and fun person to be around but these past couple of weeks its been rainy which makes me pretty depressed.
I wouldnt call myself a total EMO but not a PREP at all. Im just a me!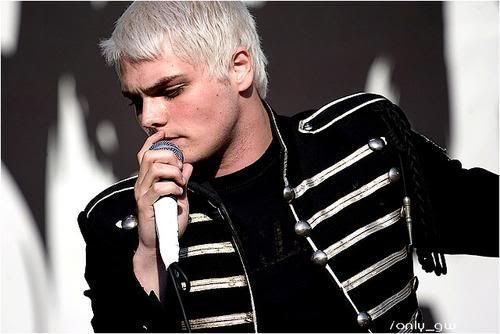 Ahhh...i absolutely ADMIRE Gerard Way. He is my favorite in MCR but i still love them all. I think he has an amazing voice and not to mention his adorable looks ;]. It's sad because most of my friends just dont see the good in him. all they see is some emo guy singing. Well...FUCK them. Theres way more to Gee than meets the eye. They just need to learn about him and start to APPRECIATE MCR.


Ahhh...those EMO boys with their EMO hair and their EMO clothes...oh those EMO boysss.
Are YOU addicted to MY CHEMICAL ROMANCE?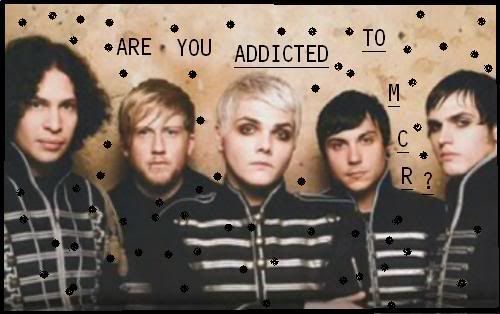 i know i am...
20 Ways to Tell If You're a Real My Chemical Romance Fan
1.Real MCR fans know more songs than "Welcome to the Black Parade."
2. Real MCR fans know Gerard Way's brother's name.
3. Real MCR fans shout 'HELL YES!' when one of their songs comes on.
4. Real MCR fans punch their cousins/brothers/sisters/parents/friends for dissing Gerard's hair.
5. Real MCR fans know the names of everyone in the band and what they do.
6. Real MCR fans shop for hours just to find a jacket like the band's have for a MCR concert.
7. Real MCR fans take time to right on the front of all their underwear "I love Gerard."
8. Real MCR fans ask their mom "What's for dinner?" and are disappointed when she doesn't say Gerard.
9. Real MCR fans start smoking because they think they will be HAWT like Frank and Gerard.
10. Real MCR fans ask for Bob the Bryar for Christmas and cry when they don't get him.
11. Real MCR fans do dirty things with their MCR action figures and are proud to admit it.
12. Real MCR fans sleep with a picture of MCR and actually have to wipe off the drool stains.
13. Real MCR fans piss themselves when they see them... on the televison.
14. Real MCR fans would admit to let them rape you.
15. Real MCR fans go in a rendition of Three Cheers For Sweet Revenge when they hear a guy in a restaurant say "So Long"
16.Real MCR fans often zone out, listening to MCR in their heads, and when someone asks them a question they scream the lyrics they were just thinking of.
17. Real MCR fans giggle everytime Gerard Way says the word 'way' in his songs
18. Real MCR fans will scream "HAPPY BIRTHDAY, **insert bandmember's name here**!!" on his birthday, regardless of how quiet the room is.
19. Real MCR fans watch "Life On the Murder Scene" twice a day then apologize to plants.
20. Real MCR fans have this on their profile.
__________________________________________________________________________
THE TEN COMMANDMENTS OF GERARD WAY
1.Thou shall never let them take you alive.
2.Thou shall drink Starbucks coffee
3.Thou shall play World of Warcraft as an Undead Warrior
4.Thou shall admit that they are not okay freely
5.Thou shall unleash the fucking bats
6.Thou shall strike violent poses
7.Thou shall stay out of the light
8.Thou shall suck thy enemies blood
9.Thou shall overcome thy weaknesses
10.Thou shall not be afraid to keep on living
THE TEN COMMANDMENTS OF FRANK IERO
1. Thou shall run around until thou can no longer breathe
2. Thou shall eat skittles
3. Thou shall let the singer feel thou up
4. Thou shall wear a badge on thy shirt collar or hood
5. Thou shall get tattoos
6. Thou shall kick random objects if they are in thy way (yes that means if they are in Gerard/Mikey too)
7. Thou shall grin with all teeth
8. Thou shall change hair style every year
9. Thou shall wear sunglasses in situations of conflict
10. Thou shall burn everything and call it Cajun
_________________________________________________________________
i am not Christian nor and i jew or buddist or Islamic...i am GERARDISM!