Sally Stitches.
Name:

Chichi


Age:

30


Gender:

Female


Location:

Canadia.

Contact
About
J
a
g
g
e
r
,
y
o
u
c
a
n
m
a
k
e
i
t
.
<3
Hi. I'm Bloody.
NOAM Is my beloved wifey.
My

apparent

twin sister.


I'm part of...
Team: WAYT Randomness.
Team: Hi To The Camera Frank.
Team: MCR Musical.
Team: We Ride The Geebus.
Team: WAYT Movie.
Team: Glomp In Buisness.
Team: Gerard Way's Official Stalkers, AKA We Stalk The Sherrif.
WAYT Family, FTW!
Team: Carrots>Turnips.
Team: Gerard Mirror Slash.
Team: Bob Bryar in Hot Topicland.
Team: Ger-Z Backbend.



I have a cat. His name is Sugar, and he is adorable. He was born March 29th of 2003, and I got him on August 27th of 2003, for my 10th birthday, even though that was in May.
He has a kitty sweater, courtesy of my aunt [whom I love very much. <3], and a devil costume which my mom made for him. [<3 also.]
I owe about 3 frillion of the scars on my arms to him, but I love him very much.






My Chemical Romance...


Ah...What could be said about them? I love them and their songs to bits. No matter how many times it has been said, I'm not afraid to admit,

MCR saved my life.


I've never seen them live, but I've narrowly missed 2 or 3 times, and am still beating my self up [mentally, of course] for it. Hopefully, they will come to my area soon and I'll finally be able to see them in concert. =]
I 'discovered' MCR about a year back, and I'm glad that I did.




Since my bestest bestest

BEST

friends in the world will not allow me to post pics of them on the Internet, I made fairy version of them. I hope that's okay, lest the rip me to shreds.
I owe my life to them. They've always been there for me. I'm glad I met them about 2 years back, because now we're so close it's like we're sisters.
You know who you are, and if you're reading this,

I <3 YOU

.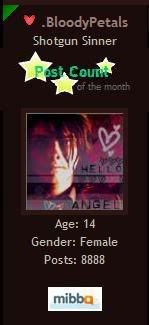 Made by .James
Thanks tons. <3