tragedy_strikes
Name:

danielle.


Age:

28


Gender:

Female


Location:

oh-kay-see, OK

Contact
About
Scream me a
love
song.


Make my f*cking heart bleed.
Self Conscious Paranoid Philophobic Mess:
Danielle's the name.
Don't forget it, you'll be

screaming

it later.
Oh,

cliché
I enjoy a good conversation. Entertain me. Let's be friends. Humor makes my day. Sarcastic or other wise. Make me laugh and I'm yours.


I enjoy a good movie, now and again. Walks on a moon lit path threw an enchanted garden. Chasing flocks of birds. All that good stuff. I love playing games. I'm a super nerd when it comes to games. I enjoy all games; classics, such as Mario and Kurby and new releases, such as God of War series and Silent Hill series. All games. Except for Halo. I never got the big whoop about that crap.

I enjoy a good book too:
Twilight series, of course.
Winkie.
Go Ask Alice.
The Truth About Forever.

Any who, Another thing I enjoy is music. You'll probably never see me without my MP3 or my CDs. Some of the bands I enjoy are:
My Chemical Romance (duh.)
Escape the Fate
System of a Down
Dance Gavin Dance
Bring me the Horizon
H.I.M.
Panic At The Disco
Breaking Benjamin
Three Days Grace
Paramore
and others.

Moving along then. That's pretty much me. Nothing real special about me. I'm not real good about writing about myself and such, so if you'd like to know me better; just drop me a line. Let's make this a

steamy

affair. ;D
My Chemical Romance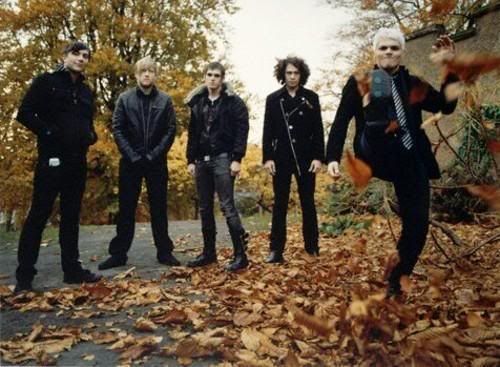 The band that saves lifes. MyChem saved my life, as it has for many other people. Their music "transformed" me. It taught me to be myself and to live my life the way I want to live it. Their music helped build me up, and made me the person I am today. Without them or their music, I don't know where I'd be right now.
Words to live by: