janabelle-iero
Name:

Janabelle of the Ball


Age:

33


Gender:

Female


Location:

-

Contact
About
[font=5]im nineteen.
i am always bored. I stay up late. I wake up early.
I straighten my hair. I drive a ford laser. I have a hiptop but im not a scene kid.
I love my chuck taylors and wear them everywhere. I enjoy reading books and writing poetry.
I watch the disney channel religiously. I like my music loud. I swear like a sailor.
I don't care what people think. I drive, I drink. I sometimes still sleep with a teddy.
I live on twitter.I dye my hair more often than need be. I have snake bites, my septum and 2 tattoos.
I paint my nails different colours. I like using bobby pins in my hair.
I dance randomly and i trip up stairs. I hate tying shoe laces. I sings badly and loudly (however she got singstar singing Helena on Singstar). I like to believe that i am going to change the world one day.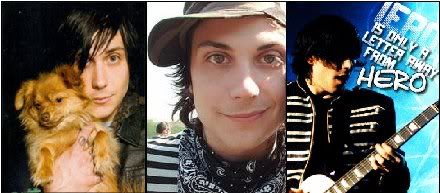 Frank Iero <3
change the 'I' to a 'H' and you get hero. thats what he is to me. i cried over this itty bitty pierced lipped angel of perfection.
30/11/07
that day changed everything. waiting for just one more glimpse for the rest of my life. the smile made me melt. he left without saying goodbye and i felt my heart break in two.
janabele@hiptop.com.au
paininass_shithead@hotmail.com
janabelle.tumblr.com
twitter.com/janabelle_xo
Photos