Fatally Yours
Name:

erika


Age:

32


Gender:

Female


Location:

Massachusetts

Contact
About
_
Teenagers scare the living shit out of me.
____________

They could care less as long as someone'll bleed.
_________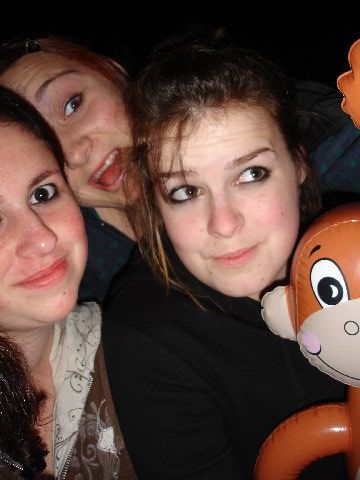 _____________
Orange plastic blow up monkeys are my best friends.
Sup? I'm Erika.
Hate me or love me, I'm not going to get upset over a little e-drama.
I dress up in pirate costumes and scare little children.
I'm lazy and uncoordinated.
I fall over a lot.
Bellybuttons and rice creep me out.
It's hard for me to trust people.
I overanalyze everything.
I hate ignorance.
I love art, in all forms. If you can find away to express yourself through art, I automatically respect you.
I love music.

You're never going to know everything about me over the internet so I'll just stop here.
Writing:
I Fell Into Fantasy
Fatally Yours
Bands:
The Academy Is...AC/DC.
AFI
.Against Me!
Alkaline Trio.
.
Anti-Flag.
Audioslave.Black Flag.Blondie.Bloodhound Gang.Bouncing Souls.The Bravery.Bright Eyes.The Casualties.
The Clash.
Cobra Starship.The Cure.Dead Kennedys.Death Cab For Cutie.The Distillers.The Doors.Dresden Dolls.Dropkick Murphys.The Explosion.Fall Out Boy.The F-Ups.Garbage.Green Day.Guns N' Roses.Gym Class Heroes.Hellogoodbye.Head Automatica.Heavens. The Hives.The HorrorPops. Hot Hot Heat. The Hush Sound. Interpol.Jimmy Eat WorldJoan Jett and the Blackhearts.Journey.Kill Hannah.Led Zeppelin.Less Than Jake.Lost City Angels.The Mars Volta.The Matches.
Misfits
.Motion City Soundtrack.Muse.My Chemical Romance.Nine Inch Nails.Nirvana. NOFX.Oasis.The Offspring.Operation Ivy.Pink Floyd.Queen.
The Ramones.
Rancid.Red Hot Chili Peppers.Reel Big Fish.Rise Against.Sex Pistols.The Smiths.The Strokes.
Sublime.
Taking Back Sunday.Tiger Army.The Transplants.Tsunami Bomb.The Unseen.The Vincent Black Shadow.The Vines.Weezer.The Who.Yeah Yeah Yeahs.
Books:
1984. Harry Potter series. My Sister's Keeper. Running With Scissors. The Catcher in the Rye. The Five People You Meet in Heaven. The Outsiders. Twilight.
"Youre more punk, hardcore, mod, straightedge, emo, indie than me. Your hair is cooler, your pants are tighter, you have more tattoos. You have cooler pins on your messenger bag & your favourite band is more obscure than mine. Your shoes are more vintage & so is your t-shirt. You own more black clothes than me. I dont even own a trucker hat or a denim jacket. Your glasses are thicker & blacker than mine. The plugs in your ear are bigger. You know more people in bands & your black jelly bracelets are the envy of scenesters everywhere. Your photography is blacker & whiter, your make out club profile is wittier & you have much better soul records. Your tie is whiter, or redder, or blacker. Your scene points are double, perhaps triple mine. Because as we all know, thats what really matters. In a scene where the music has taken a backseat to the haircuts.
you win & I lose."