Morticia
Name:

Kel


Age:

36


Gender:

Female


Location:

In Curtis Rx's loving arms

Contact
About
FAVE BANDS/ ARTISTS:
My Chemical Romance, Malice Mizer, AFI, 30 Seconds To Mars, HIM, The 69 Eyes,
The Used, The Beatles, Gackt, 3 Doors Down, CKY, ICP, Taking Back Sunday, Angels and Airwaves, Blink 182, Jet, David Bowie, The Killers, t.A.T.u, Panic! At the Disco, The Pillows, Santo and Johnny, Rob Zombie, Hyde, Utada Hikaru, Voltaire, The Remus Lupins, Creature Feature and the Weird Sisters
FAVE MOVIES:
Shocktreatment, Rocky Horror Picture Show, House of 1000 Corpses, IT, Devils Rejects, Nightmare Before Christmas, Labyrinth, Neverending Story, Ringu, The Grudge,
Gremlins 1 and 2, Jackass 1 and 2, Haggard, A Life Less Ordinary, POTC, Crybaby (basically anything with Johhny Depp) All the harry potter films
FAVE SHOWS: Viva La Bam, Jackass, South Park, Whose Line Is It Anyway?, Homewrecker, Red Dwarf, Trintiy Blood, Ranma 1 1/2, Fruits Basket, FLCL, Gundam Wing. Lost, CSI, Kyle XY
I have a lovely wife, Jenni
I love her more than she'll ever know, she is my inspiration and my goddess.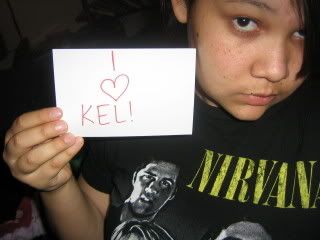 I like a boy........and I think he knows it
I love these dogs more than anything in the whole world. They're my lifesavers.
THis is Dan, I call him Underdog! XD
And this is Liberty Ann