xMari_Malicex
Name:

Marisa


Age:

32


Gender:

Female


Location:

Illinois

Contact
PM:

Friends:

MSN:

mizdiva60544@yahoo.com


AIM:

xAmour Immortelx


MySpace:

www.myspace.com/xxscenessuckxx

About
~We
Are
The
Black
Parade
~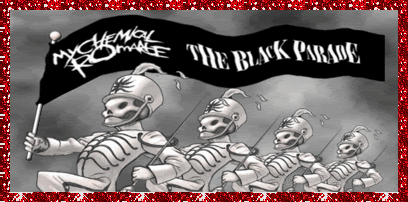 Come one, come all to this tragic

affair
Wipe off that makeup, what's in is

despair
So throw on the

black dress

, mix in with the lot
You might wake up and notice you're someone you're

not
My Chemical Romance is bigger and better than ever. They're bringing you their

heart

, their

emotions

and their

feelings

out to show you who they really are. Will you join the Black Parade, and be the savior of the beaten and the damned? These Jersey boys need your support 100% of the time! As real MCR fans, we're giving them the feeling that people care, that people really do listen to the music. Be a true fan and support My Chemical Romance for who they are and the music they play, because 30 years from now when we're looking back on our lives, we'll remember our days liking My Chemical Romance, a truly life changing band.
I AM A

TRUE

MY CHEMICAL ROMANCE FAN
A kiss and I will

surrender



*

Who am I? I'm not much of a famous girl, or an ordinary one, to be honest. My name is Marisa, I'm 17 years old, and I'm a citizen of the good ol' United States.

<3
*

I'm not hard to understand on the outside. I dress how I want, act how I want, listen to the type of music that I want, all while maintaining a good public appearance. I'm not going to goof off in public just to look cool...that's immature. Going along the lines of immaturity, it's something I'm not. I enjoy intelligent conversations, debates, ect. I'm mature for my age, and I have been since I was 14. I've always been one to over-analyze things, but understand the main picture at the same time.

<3
*

I've got a liking to cheesecake, Joey Jordison, crab rangoon and other weird things that I hold dear to my heart. My friends mean the world to me, but I will admit that I talk about people behind their backs, even my friends. Hate me for it, I could care less. I'm not going to hide my flaws, for they are what make me--well--me. I've got demons the size of Spain bubbling under my skin, and one day I'm sure they'll emerge beyond my control. I've got a personality that just might kill you.

<3
In visions of the dark night
I have dreamed of joy departed-
But a waking dream of life and light
Hath left me broken-hearted.
-A Dream, by Edgar Allen Poe
Can you say my eyes are shining

bright

?
*Love me. Hate me. I'll still love MCR.*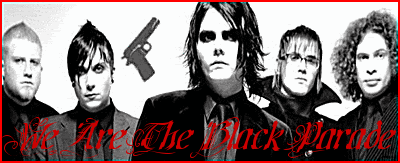 (Made by Mari)