Beast And The Harlot
Name:

Nikki


Age:

31


Gender:

Female


Location:

City of Evil; Perth, WA

Contact
About
sup kiddies?
i'm
nicola
nikki
cinquegrani.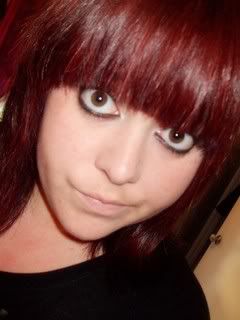 -i'm half italian, and half australian (:
-i love in western australia and it does alright
-i no longer attend school; leavers 09 baby!
-i love my family and friends, they are my life, my heart, my soul, my everything.
-i want to be a make-up artist when i'm older, and open up a home
for homeless and disadvantaged teens.
-i work at tar
gay
as a checkout chick.
-i'm shy, crazy, loud, weird, awkward, happy, friendly, annoying, random,
angry, psycho, bubbly, trust-worthy, caring and kind.
-i'm always smiling and i laugh at basically everything.
if i'm not smiling or laughing, then obviously there is something wrong.
-i love music, and i would not function without it.
-tattoos are pretty much the sex! i love them and if i had one dream,
it would be to become a tattoo artist (:
accounts;
mibba/ino/gsb; Beast And The Harlot
Green Day Community
LAMEspace
facebook
banner fans
bebo
tageed
feel free to add me (:
i don't go on myspace/bebo/tagged much though
music;
alesana. avenged sevenfold. green day
post-hardcore, punk, rock, metal, alternative, indie, d'n'b, techno.
RIP Jimmy 'the rev' Sullivan.
10th February 1981 - 28th December 2009
Dear God, I pray Jimmy 'The Rev' Sullivan is in a little piece of heaven in the afterlife, making the angels scream. He seized the day in bat country, then burned it down, his unholy confessions trashed and scattered. We gave him the strength of the world and he gave a us a second heartbeat. He is MIA, but will walk on through thick and thin to the wicked end. May you be in eternal rest.