ABORTIONABORTION!
Name:

Amii


Age:

84


Gender:

Female


Location:

Doing drugs on the dashboard.

Contact
About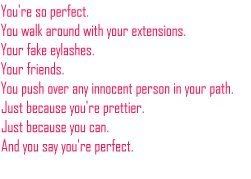 Amii-Christine.
3rd June 1992.
Brisbane.
I look like a bitch.
Once you meet me you'll see that I'm not.
I love making new friends.
I'm incredibly shy.
I'm a vegetarian.
I'm afraid of balloons.
I hate calling people.
I'll stand up to adults, but not my friends.
I'm extremely opinionated, yet I keep them to myself.
I curse like a sailor.
I'm obscene.
I make nasty jokes.
I'm a sucker for fags.