queen bodicea
Name:

Amy


Age:

46


Gender:

Female


Location:

Philly, PA

Contact
About
Hmmm, to start with the most important thing to know about me is that I cannot survive one day without music. If I had to choose between losing my eyesight or my hearing, I'd ditch my eyes with no hesitation. I'm kinda serious about music!
I'm originally from Southern New Jersey but I've been living in Philly for 7 years. I never thought I'd adjust to it even though I spent many summer weekends here with friends when I was a teenager. I don't miss "The dirty Jers" a whole hell of a lot...where I grew up doesn't have much to offer other than the beach and taxes out the ass. All of my family and most friends still live there so I'm there when I can be.
I've been married for nearly 3 years but I've been with my husband for over 9 years. He's got two kids from a previous marriage and I've known them since before kindergarten
.
We don't have any children together other than our two cats Franklin and Einstein lol. They're spoiled like kids so I guess that'll have to do for now.
I have worked as an assistant innkeeper at a Bed and Breakfast 5 years and I love working there. People from all over the world stay there at any given time. I've met guests from probably 30-40 countries so far. I like trying to place their accents. It's much like a hotel but it's a large house that has 6 seperate rooms. Guests aren't a
room number there...we greet them already knowing their names. I'm a bit biased about where I stay when I travel.
I've got two tattoos; a four-leaf clover on the outside of my right leg. My husband calls that my "jailhouse tattoo". The other one is a dolphin jumping out of a wave on my lower back...that one hurt just a bit but I love it. I want to get a third but I have no idea what.
Music, movies and reading are my lifelong loves. I've spent a very large chunk of it doing one of the three. I've been a HUGE fan of Stephen King, Anne Rice and Clive Barker since middle school. My bookshelves are straining to hold all of their books...I need a bigger place!
As far as movies go I have a wide range of much-loved favorites: Donnie Darko, Fargo, The Dangerous Lives of Alter Boys, The English Patient, Trainspotting. Big Fish, Requiem for a Dream, American Psycho, Pi, Priscilla: Queen of the Desert, Snatch, The Insider, Heat, Interview with the Vampire, Brokeback Mountain, The Mudge Boy, The Crow, The Goonies, Stand By Me, LOTMS, Dead Man Walking, Natural Born Killers, Pulp Fiction, The Machinist, Empire of the Sun, Reservior Dogs, E.T., Singles, My Left Foot, The Lord of the Rings Trilogy, 21 Grams, Bram Stoker's Dracula, The Shawshank Redemption, Edward Scissorhands, Clerks, Silence of the Lambs, American History X, Pink Floyd's The Wall, Lawn Dogs. Of course there's more but I can't think of any more.
Music: Pearl Jam will always reign supreme with me. The list of bands I'm into go in no particular order after PJ...Metallica, Pink Floyd, The Beatles, Led Zeppelin, The Smashing Pumpkins,Red Hot Chili Peppers, Linkin Park, Brand New, The Used, The White Stripes, MCR (of course!), Muse, CKY, Coheed and Cambria, Green Day, Mindless Self Indulgence, Nine Inch Nails, Mother Love Bone, Audioslave, The Mars Volta, Tool, A Perfect Circle, Velvet Revolver, Oasis, Wolfmother, Paramore, The Libertines, Babyshambles, hell anything involving Pete Doherty!!,Taking Back Sunday, Say Anything, The Doors, Angels and Airwaves, 30STM, Avenged Sevenfold, Dave Matthews Band, The Beastie Boys, Clutch, David Grey, Beck, Coldplay, HIM, Fall Out Boy, Foo Fighters, Gavin Degraw, Gorillaz, Incubus, Jane's Addiction, Korn, Live, Massive Attack, Temple of the Dog, Ozzy Osbourne, P!ATD, Queen, QOTSA, Radiohead, Rob Zombie, SOAD, The Killers, Tori Amos, U2. There's tons more but you get the idea!
Now for the main reason we're all here on INO...My Chemical Romance.
It's really been tough for me to articulate to myself or to other fans I've met on this site why I've become a fan so quickly and so deeply. It didn't start out that way...I was a very casual fan a year/year and a half ago. I'm not ashamed to admit that the Black Parade made me a lifetime fan. I did my research and was in awe at the five men behind the music I'm unable to stop listening to. If the music wasn't enough...then seeing them with my own two eyes and ears in Feb for the first time was the ultimate clincher. Like my dear friend Porcelinajune said, seeing MCR is a religious experience. Holy shit is it ever. In Aug for PR, it'll be my third time seeing them and certainly not the last even by a longshot. I've said it before and it bears repeating...I am here for the long haul. I adore these guys and I'm more than thrilled I know who they are now.
I'm still not sure these guys are for real....it's extremely rare for a group of musicians to be so humble about their contributions to their chosen field. They've held all their ideals close to their hearts and haven't strayed from the message they set out to spread to as many as possible. A lot of talk has been going on about a personality "change" but personally I don't see the negative side of it. These guys,imvho, have handled the success that they've worked tirelessly to acheive very well. They keep doing what they do and I won't ever lose respect for MCR. I can only hope and wish for them even more greater success. Their music has enriched my life and it'd be nice to know my little bit of support would do the same for them.
This is for Gerard..."Sing us a song and we'll sing it back to you
We could sing our own but what would it be without you?"
I adore my five little guardian angels with red guns lol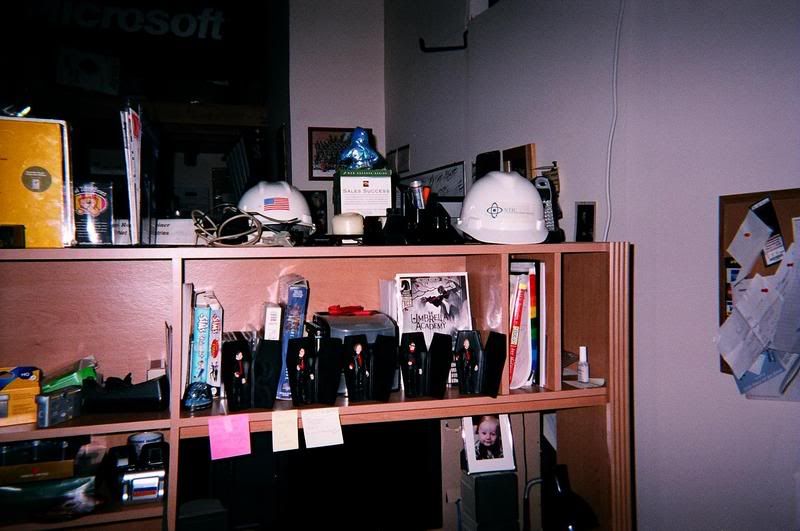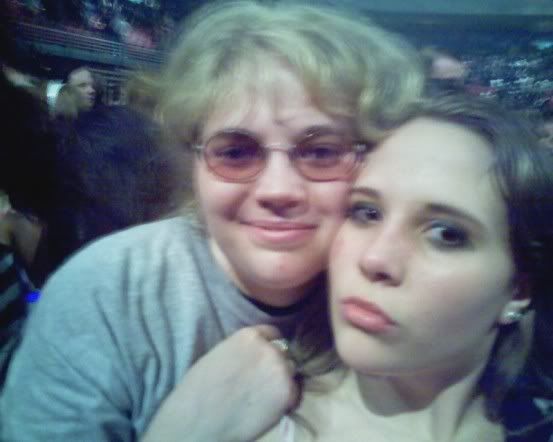 Even though I hate my picture taken (Bob anyone?)...this pic kind of proves it lol. It was a very long, rough day. I certainly left the house more put together.
My stepdaughter and I after the Feb show here in Philly. We stood in line for 7 hours in 30 degree weather, snow and rain. I'd do it again no problem.
August 25th Projekt Revolution pic of my stepdaughter and me waiting in line to get in...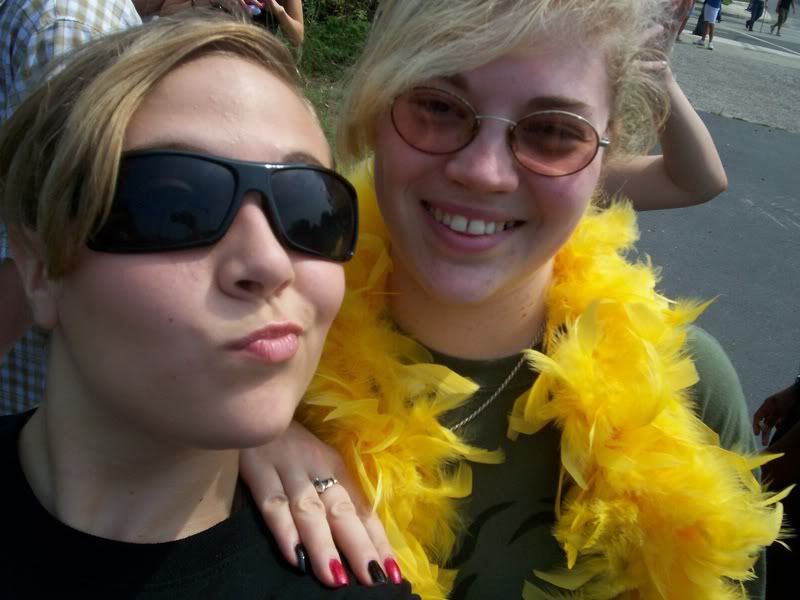 Just have to share these pics of my nephew. God I LOVE this litle man!!!!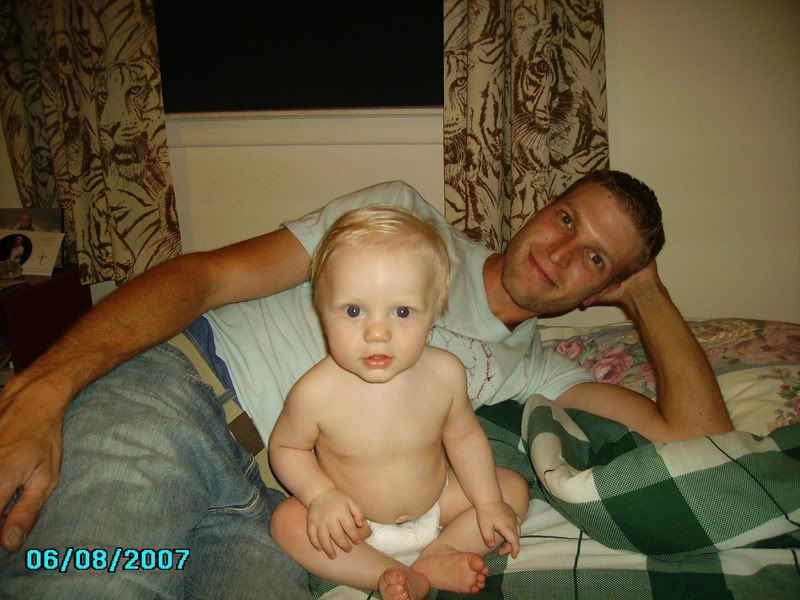 My brother and baby...bro got cut off lol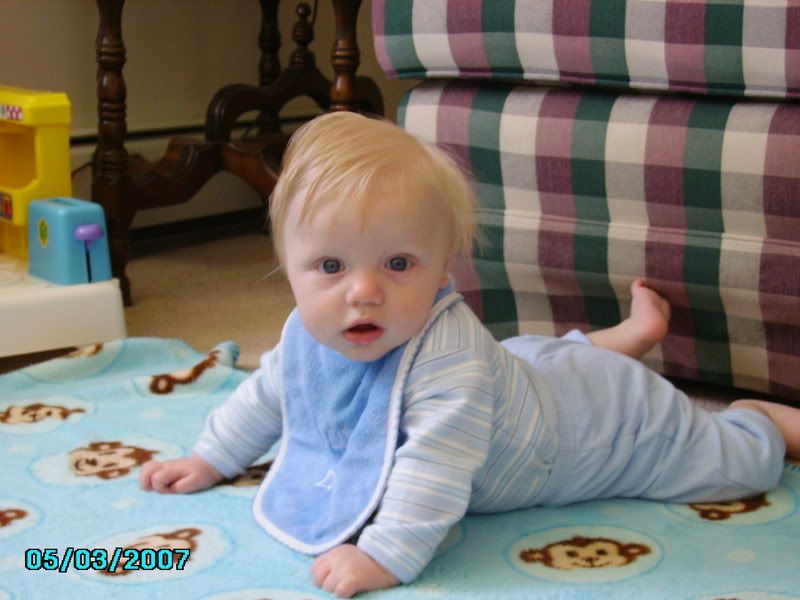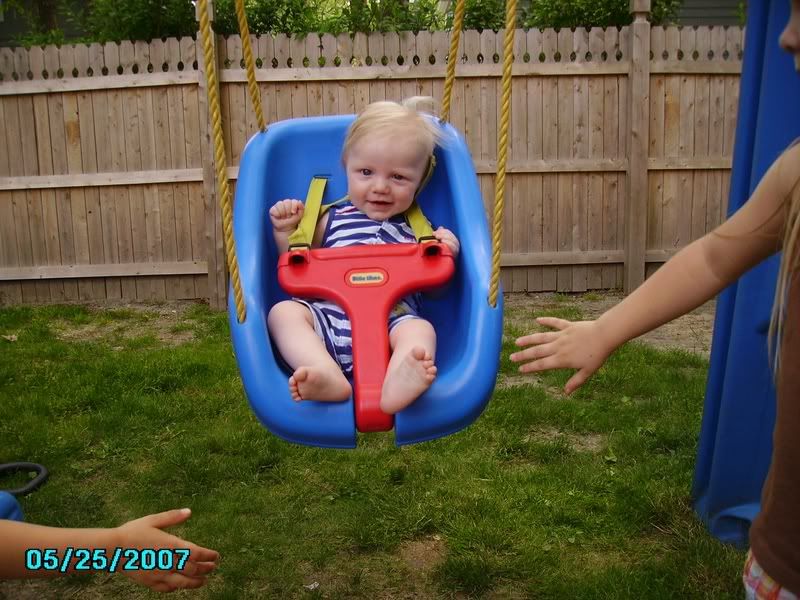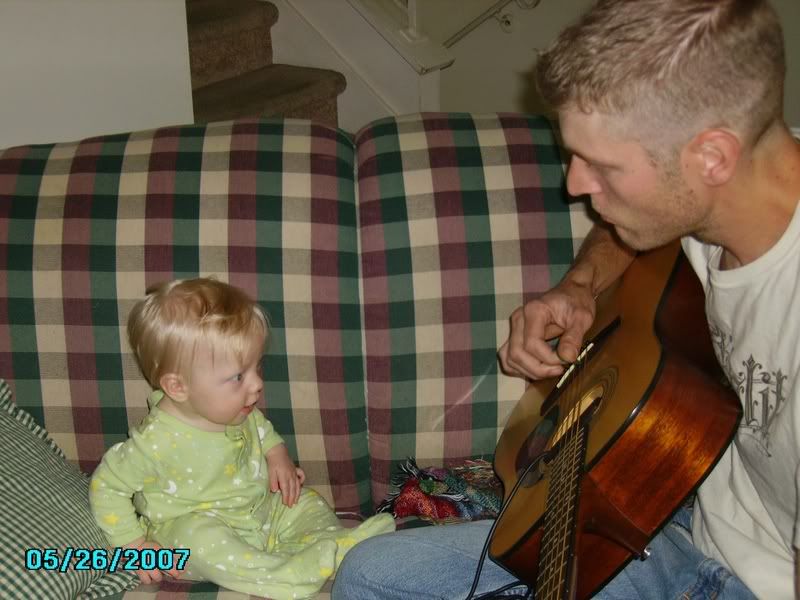 Watching my brother play the guitar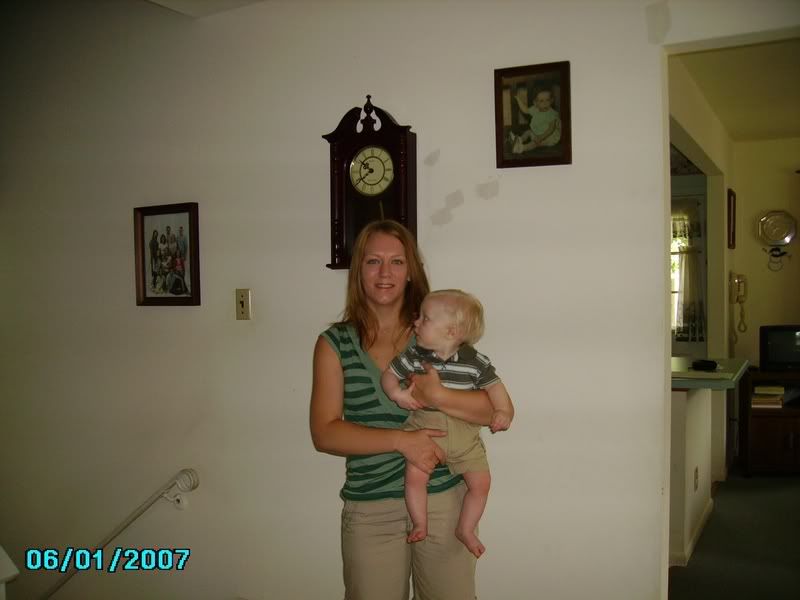 Mommy and baby