divineblindsoul
Name:

Abby Hutchinson


Age:

33


Gender:

Female


Location:

Minnesota

Contact
About
I love My Chemical Romance and I truly believe that they are some of the most talented and beautiful people on this planet. They give me hope and strength (as lame as that sounds, it's true). When I am sad I listen to any of their music it picks me up. I, as I'm sure most of you do, connect on a very heavy emotional level with just about every song. They saved my life.
Here are a few nifty gif files for you all!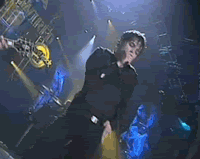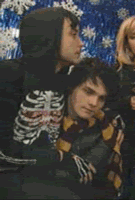 Here is a clip of a really good interview...they giggle a lot and it is very cute!!
If you want to see a MySpace (I know...lame..but useful) page devoted almost entirely to MCR (Gerard mostly...so sue me) go here!
www.myspace.com/divineblindsoul
I've got videos and some funny interviews on there so, if you're interested, take a look. (Disclaimer: I am not trying to pimp my MySpace out to you all or anything of those likes, just trying to share the Gee and My Chemical Romance love!)