Names are stupid!
Name:

Pansy


Age:

30


Gender:

Female


Location:

Trapped in a body

Contact
About
Ok HI!!! the only way to describe me is a "Walking Contradiction"
my life is so F**ked up!!! xD
i love heroes

=Gerard ♥
=Frank ♥
=Bob ♥
=Ray
=Mikey
http://i12.photobucket.com/albums/a220/jacob1231/smileysylar.gif
= me
Avril Lavigne
fan
hate club-members=me, dyz, rachael, india, paradeonmyrevenge, Julia
Gerard: I have a nihilistic attitude so it's like, the new gay...it's popular. You know what I mean?
Frank: Popsicle is the new black.
Gerard: What did I say? Oh yeah. Screaming is the new gay, everybody's doing it.
Frank: I wish it were Popsicle.
Gerard: Popsicles?
Frank: Popsicles should be the new black and then everyone would have one.
Mikey: I like Popsicles...
when i die i would like to come back as Frank Iero's mic i am already his guitar
" Don't let a couple of homophobes ruin your day because we all know when they go home they take it in the ass anyway -Gerard Way
i like
MY CHEM INTERVEIW...
Okay guys these are some tough questions you up for it?
Gerard: Go for it
Frank: Shoot
_SKITTLES OR MnMS?_
Mikey: SKITTLES!!!!!!!!!!!FUCK YES SKITTLES!!!!
Gerard: wow uh, yeah have to agree with Mikey on that. Skittles all the way.
Frank: I prefer sweet stuff over chocolate anytime.
Ray: Dude no way M&M's are way better
Frank: But they all taste the same!!!! Put some variety in your life man!!!!
Bob: Gummy bears
Gerard: Dumbass that wasn't one of the choices
Bob: ...oh well it is now.
Just so you know I didn't come up with this one: Which would you rather do impregnate a cow or eat road kill squirrel?
Frank: Are there any alternate answers?
Gerard: I'd rather eat road kill anything than get near a cow.
Mikey: he hates cows. But seriously eating a road kill squirrel? That would be just plain weird. And disgusting.
Gerard: Cows smell like shit.
Frank: How about neither
Ray: C'mon Frankie you know you wanna fuck a cow or two
Frank: WHAT!!!! THAT'S PLAIN WRONG!!!
Bob: Dude impregnating a cow just means you stick-
Mikey: EEEEWWWW!!!!!KEEP IT PG-13!!!PG-13!!!!!
So what's the meanest thing your band mates have ever done to you while on tour?
Ray: Don't even get me started the list could go on for hours.
Gerard: Come on. You know we pick on Mikey more than anyone
Frank: We've all had our days.
Gerard: you guys fucked up my samich and let me eat it.
I always thought it was sandwich
Gerard: When I was little I would say samich and it just kind of stuck.
Bob: tell Them what we did to the sandwich!!!
Mikey: Oh God NOOO!!!!!
Gerard: I was making a tuna and whip cream samich and I left for a second to go check on something. When I came back my samich was no longer whip cream and tuna it was a Mikey's cum and tuna samich. It was so fucking disgusting. I swear I'll get you back for that.
Mikey: Yeah and you did. I remember this one time when you and Frankie zipped me up in a sleeping bag and dumped my in the pool at that one Sheraton hotel because I wouldn't go up to that creepy floor with you guys.
What was so creepy about it?
Gerard: There was this fucking psycho Satanists cult up there and Mikey was scared shitless.
Ray: those guys were so cool!
Frank: there was this one guy who was chasing us around the floor they were on and shouting at us in latin. Or I think it was latin. We really pissed them off. I guess he was trying to curse us or something.
Do you guys believe in that kind of thing?
Gerard: well we've had a few incidents with a Ouijia board and we're all very superstitious.
Frank: don't go walking under ladders.
Okay new subject.Boxers briefs man thong or commando.
Mikey: (laughing so hard he fell off the chair)
Frank: MAN THONGS ALL THE WAY!!!!
Gerard: FUCK YEAH!!!!!
Ray: boxers for me thanks
Bob: No comment
Mikey: AHHH he's commando aren't you?
Bob: like I said no comment.
Gerard:GROSS!!!!!I AM NOT SITTING NEXT TO YOU ANYMORE!!!!!
_OK,WHAT DO YOU REALLY DO IN THE SHOWER?_
Gerard: Well I take long hot pleasurable showers, and I touch and scrub my whole entire body.
Mikey: Ewwwww
Ray: Oh Mikey you've thought about that before
Mikey: Eeeeewwwww NO!
Gerard: Dont deny it!
Mikey: Shut up back to the question.
Gerard: That is part of the question.
Frank: you guys are fucked up.
Ray: Hey Mikey, don't you take toasters in the bath?
Gerard: YES he does!
Mikey: Well not anymore, every once in a while I do like to watch T.V. in the bath but I guess it's not a safe thing to do!
Frank: Your are such a dumbass!
_OKAY THIS ONES FOR FRANKIE. HAVE YOU EVER THOUGHT ABOUT ONE OF YOUR BAND MATES IN A SEXUAL WAY? IF SO, WHO?_
Frank: Yes actually. But it was nothing too dirty or anything. I just,-there was this one pair of pants Gerard had that really showed off his ass and uh...package.
Gerard: Yeah everyone knows I'm sexy.
Definitely Gerard. Anyway one of your fans wanted to know how far you've gotten with Bert
Gerard: Okay, I haven't fucked him haven't sucked him or vice-versa.Well i nearly did, but I have seen him naked.
Frank: I think Bob and Ray left us.
Mikey: Wussies can't handle the sex talk
Gerard: You're one to be talking.
Mikey: FUCK YOU!
Gerard: FUCK YOURSELF!
Mikey: GO FUCK A COW!
Gerard: GO FUCK A TOASTER AND TURN IT ON!
Mikey: GO FUCK YOUR MOM!
Gerard: SHE'S YOUR MOM TOO DUMBASS!!!!
_OKAY, ON BEHALF OF MTV AMERICA,WE'D LIKE TO SAY THANKYOU MCR,AND GOOD LUCK IN THE FUTURE_
Frank: and On behalf of all the rest of MCR and myself WE'LL SEE YA AT THE SHOW!!!!
Gerard: GO FUCK A WHALE!!!!
Mikey: HOW MANY TIMES DO I HAVE TO SAY THAT I'M NOT INTERESTED IN YOU LIKE THAT GERARD!!!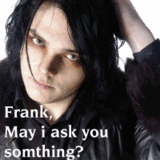 i'm saving this here so i won't loose it!!!
http://www.tektek.org/color/