takesonetoknowone
Name:

Working Class Hero


Age:

33


Gender:

Female


Location:

Monroeville

Contact
About
A real MCR fan:
1.Real M.C.R fans know more songs than Welcome to the Black Parade.

2.Real M.C.R fans know Gerard Way's brother's name

3.Real M.C.R fans shout 'YES!' when one of their songs comes on.

4.Real M.C.R fans punch their cousins/brothers/parents/friends for dissing Gerard's hair.

5.Real M.C.R fans know the names of everyone in the band and what they do.

6.Real M.C.R fans shop for hours just to find a jacket like the band's have for a M.C.R concert.

7.Real M.C.R fans have this on their profile
92% of the teen population likes rap and hip-hop.
If you're one of the 8% who listens to rock music, paste this in your profile
92% of the teen population would be dead if Abercrombie and Fitch decided breathing wasn't cool!! Put this is your profile if you are one of the 8% who would be laughing hysterically instead.
my chemical romance...of course
Ten Commandments Of The Black Parade
I. Thou shalt not accept

death

as it comes
II. Thou shalt

sing

and

march

without question
III. Thou shalt face

fear

and

regret


IV. Thou shalt let go of thy

dreams


V.Thou shalt give

blood


VI. Thou shalt not

fear

thy

sins


VII. Thou shalt

protect

thy

brother in arms


VIII. Thou shalt

darken

thy clothes
IX. Thou shalt not walk this world

alone


X. Thou shalt

carry on!
Ten Commandments Of My Chemical Romance
1. Thou shall

not put

a gun to thy

lover's head


2. Thou shall be

willing

to

die for love


3. Thou shall

seek revenge

on those who wrong you.
4. Thou shall be a

demolition lover


5. Thou shall

unleash

the bats.
6. Thou shall

protect

thy lover from everything

(even vampires)


7. Thou shall

respect

the lord,

Gerard


8. Thou shall

sing

the holy hymns of the

chemical romance


9. Thou shall

see beauty

in Bloody

love


10. Thou shall rock hard!
THE BAND
Gerard Way
AbOuT:
Born:9 April 1977, Newark, New Jersey, USA
Birth Name: Gerard Arthur Way
Nickname: Gee
Height: 5' 9" (1.75 m)
Older brother of Mikey Way.
Lead Singer of My Chemical Romance.
He drew the cover of My Chemical Romance's second album "Three Cheers for Sweet revenge".
He originally wanted to be a comic book artist. He pitched a cartoon series called "The Breakfast Monkey" to Cartoon Network, but gave up on art and helped form My Chemical Romance after 9/11 because it made him realize he had to do something with his life.
Gerard is 1/2 Italian (mother's side), and also 1/2 Scottish (father's side).
some words of wisdom?
"If for one minute you think you're better than a sixteen year old girl in a Green Day t-shirt, you are sorely mistaken. Remember the first time you went to a show and saw your favorite band. You wore their shirt, and sang every word. You didn't know anything about scene politics, haircuts, or what was cool. All you knew was that this music made you feel different from anyone you shared a locker with. Someone finally understood you. This is what music is about." ---Gee

"What I Like about The Sims is that I don't have a normal life at all, so I play this game where these people have these really boring, mundane lives. It's fun. My Sims family is called the Cholly family. I don't know why I picked that name; it's kind of random. The teenage daughter is my favorite, because I just had her go through this Goth phase. She's really kind of nerdy and she just became a concert violinist, which is pretty huge for the family. And she got into private school. But she started wearing black lipstick and she dyed her hair purple. It's pretty huge."---Gee
Mikey Way
AbOuT:
Date of Birth: 10 September 1980, Newark, New Jersey, USA
Birth Name: Michael James Way
Height: 5' 10" (1.78 m)
Engaged to long-time girlfriend Alicia Simmons.
Loves Cofee and Sushi.
The younger Way's trademark was his glasses, but that all changed in May of 2006. Mikey got Lasik eye surgery that corrected his nearsightedness and made the glasses superfluous. He no longer wears glasses.
His first ever concert was a Smashing Pumpkins concert.
Brother of My Chemical Romance front man Gerard Way. Mikey also plays bass guitar for the band.
He and his brother Gerard are maternal second cousins of Joe Rogan, host of the NBC game/stunt show Fear Factor.
some words of wisdom?
"We're very attractive to them because we dress like
homeless people."--Mikey

"There's less violence in the world when people are using Hula-Hoops."--Mikey

"There's absolutely a movement of a return to rock. Sometimes the good guys win. Kids are sick of the fucking pop and sick of being lied to. Everyone wants something real, something that was created to invoke a positive feeling."--Mikey
Frank Iero
AbOuT:
Date of Birth:October 31st, 1981 Belleville, New Jersey, USA
Birth Name: Frank Anthony Iero
Nickname: Frankie
Height: 5' 4¼" (1.63 m)
He went to Rutgers University, but dropped out.
Before joining My Chemical Romance, he was in a band named Pencey Prep.
He has his own clothing line called Skeleton Crew.
When Frank joined My Chemical Romance, he had dreadlocks.
He is the shortest member of the band, standing at 5"4
His guitar nicknamed "Pansy" was broken by an MTV technician
He got a scorpion tattoo as high up on his body as he could once he decided that he didn't want a real job
Frank believes the worst injury he sustained was when he broke his toes
Iero admires Billie Joe Armstrong of Green Day, and learned to play the guitar by imitating him
He did guest vocals on the song Black Duct Tape by The Banner (band)
some words of wisdom?
"I would date Gerard."--Frank

"Asshole. I was such an asshole! Uhhh Delinquent. I was told I was too intelligent for my own good but I don't know about that. I didn't like authority and this was at ten!"--Frank

"I can't imagine any other bands having better kids than ours, and if they do at least I know our kids can beat up their kids."--Frank
Bob Bryar
AbOuT:
Date of Birth: December 31st, 1979,Chicago, Illinois,USA
Birth Name: Robert Cory Bryar
Nick Name: none?
Height: 5' 10½" (1.79 m)
Attended university in Gainesville, Florida
Previously worked at Disney World
He joined the band in 2004 while working as a sound engineer for The Used
He replaced My Chemical Romance's former drummer, Matt Pelissier, after being a sound man for The Used for a few years
In a clip from the making of the video "Welcome to the Black Parade", he said that he was working on a solo project, and all of the songs were written about Gerard Way, something that has become a joke among fans.
In the filming of the music video for "Famous Last Words", on The Black Parade, Bryar's leg was badly burnt.
some words of wisdom?
"I just rolled up the window, I couldn't think of anything else to do, phew I'm safe from the .375 gun now that I've rolled up the fucking window"--Bob

"I'm filled with piss and vinegar"--Bob

"I get these urges to fuck off sometimes"--Bob
Ray Toro
AbOuT:
Date of Birth: July 15, 1977,Kearny, New Jersey,USA
Nick Name: Torosaurus
Height: someone tell me please!
Toro started playing guitar during his sophomore year
Unlike his bandmates, Toro is not a fan of punk rock or emo music (although My Chemical Romance recently did a cover of the Misfits song "Astro Zombies&quot
Toro cites Randy Rhoads, Stevie Ray Vaughan, Slash, Jimi Hendrix, Kirk Hammett and Jimmy Page as his guitar influences
Toro's hair often gets commented on. This is one feature, other than his guitar playing, that he is most noted for
Growing up, Ray had a pet dog named Boy.
Mikey Way once straightened his hair for him, it lasted one show. Ray didn't like it (he said that he doesn't like the way he looks anyway), but the rest of the band did
Ray was voted the #1 guitar player on Fuse TV's Guitar Hero Countdown.
some words of wisdom?
"C'mon Frankie, you know you wanna fuck a cow or two."--Ray
"I'm into classic rock and metal. All of my style is patterned after these guys"--Ray
"We were birth control." - Ray on his and Gerard's high school years
--------------------------------------------------------------------------------------------------------------------
other bands i like
RISE AGAINST
BlesstheFall!!
red jumpsuit apparatus!
senses fail
alkaline trio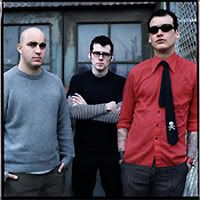 HALIFAX!!
hawthorne heights
VILLE!!!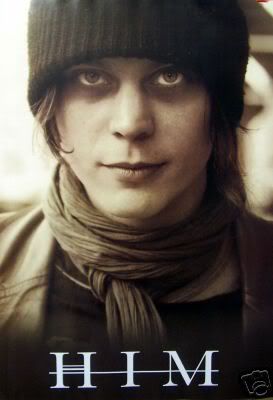 dashboard confessional
the shins
(+44)!!!
---------------------------------------------------------------