yilujayss
Name:

Trish


Age:

31


Gender:

Female


Location:

Australia

Contact
About
Welcome To My Page
FREE HUGS FOR EVERYONE!!!
-=-My Name is Patricia, But changing that in a few years. I'm currently in Adelaide, Australia, 15, 16 on 29th March, I'm called "Pookie", "Trishy", and birds names and other weird names rather frequently…-I'm a coffee addict, that started at age 8 when a little old lady feed me it. All the pets I've ever had have either ran/flew/crawled away or died
personally I blame Chip monkeys. I like my music…it's like my air and I'd die without it! I don't like watermelon, figs and liquorish….yucky. My neck hurts. I've moved 5 times in my life time. I want a bass!!! I want to be a bassist! *puts hand up and waves it*. I thought Eero Heinonen from the rasmus was amazing at what he did and became obsessed. Jeph Howard from the used is my favorite bassist followed by Mikey Way. When things go wrong, or I want to tell someone a story for the hell of it I talk of animals, mostly cows, monkeys and things that sound funny. I like flying in planes. In a few years I hope to be a Photographer and a Podiatrist. I don't know how to use a washing machine, all my attempts of learning have gone wrong…bar this one time when my brother taught me how to spin dry thingy it after you hand wash something…I felt very smart that day. I have a few pretend friends, because you always have to have someone to talk to, blame stuff on and give cookies to. I only have few because most of the time Bob is away in his Mellowvision (it's like a car plane transporter that's smarter then Bob) and when he is away in different country's, there is Rupert. When Rupert's now where to be seen, then there is, Jeff, Bob's pet pretend dog. I got Jeff for Bob in a pretend newspaper that said free dog; I've never met Jeff…any who when there is no Jeff there is, Emily who is Bob's daughter. Just when you think I could not have anymore pretend friends…when there is no Emily, there is always the tree in Prospect, Manumus. I have 3 sisters and 3 brothers. I have a rather bad memory. Favourite colours are purple and green. I dunno why, but my rib clicks. I don't know anymore silly facts about myself because I can't remember them.
The bands I like are:
30 Seconds to Mars, AC/DC, AFI, After The Fall, Aiden, The All-American Rejects, Arctic Monkeys, Armor for Sleep, At The Drive In, Avenged Sevenfold, Avril Lavigne, The Audreys, The Automatic, Bane, Beck, Behind Crimson Eyes, Be Your Own Pet,
Billy Talent, Björk, Blindside, Blink-182, Bloc Party, Bob Evans, Boys Night Out, Bright Eyes, Bullet for My Valentine, The Butterfly Effect, CKY, Cold War Kids, The Cure, The Darkness, Dashboard Confessional, The Datsuns, Deep Purple, Dir En Grey, DonkeyPunk, Dresden Dolls, Eskimo Joe, Emery, End of Fashion, Evanescence, Evermore, Every Time I Die, Faker, Fall out Boy, The Feelers, Foo Fighters, From First to Last, Funeral for a Friend, The Get up Kids, God So Loved the World, Goodnight Nurse, Goodshirt, Greenley Estates, Grinspoon, Gyroscope, Hawthorne Heights, Hilltop Hoods, HIM, The Hot Lies, Incubus, In Fiction, Interpol, Inxs, James Blunt, Janes Addiction, Jeff Buckly, Jet, Kaiser Chiefs, Kanye West, The Killers, Killswitch Engage, Kisschasy, Korn, Leaves Eyes, Led Zepplin, Little Birdy, The Living End, Matchbook Romance, The Matches, Metallaca, Muse, My American Heart, My Chemical Romance, Negative, Nightwish, Nirvana, Norma Jean, OkGo, Opiate for the Masses, Panic! At The Disco, The Pictures, Pink, Placebo, Queen, Queens of the Stone age, The Rasmus, Razorlight, Red Hot Chili Peppers, Refused,
The Red Jumpsuit Apparatus, Rise Against, Roses Are Red, The Saboturs, Saosin, Senses Fail, The Smashup, Something for Kate, Something with Numbers, The Strokes, Taking Back Sunday, Three Days Grace, Thrice, Thirsty Merc, Thursday, Trivium, Underoath, The Used, The Valley, Velvet Revolver, The Veronicas, The Vines
Violent Soho, We are Scientists, The White Stripes, Wolfmother, Yeah Yeah Yeahs, Yellowcard, The Zutons
PEOPLE CHECK OUT ROCK RULES!
http://rockrules.6.forumer.com
http://www.myspace.com/rock_rules_forum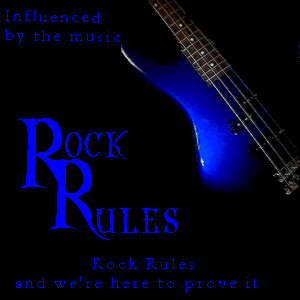 MCR
Hang 'Em High



Wait until it fades to black
Ride into the sunset
Would I lie to you?
Well, I've got something to say
Grab your six-gun from your back
Throttle the ignition
Would I die for you?
Well here's your answer in spades

Shotgun sinners
Wild eyed jokers
Got you in my sights
Gun it while I'm holding on

After all is said and done
Climb out from the pine box
Well I'm asking you
'Cause she's got nothing to say
The angels just cut out her tongue
Call her black Mariah
Would I lie to you?
That girl's not right in the brain

Mass convulsions
Strike the choir
By the grace of God
Gun it while I'm holding on

But don't stop if I fall
And don't look back
Oh baby don't stop
Bury me and fade to black

She won't stop me put it down
She won't stop me put it down
She won't stop me put it down
So get your gun and meet me by the door
[x3]

She won't stop me put it down
She won't stop me put it down
She won't stop me put it down
So baby...

Don't stop if I fall
And don't look back
Oh baby don't stop
Bury me and fade to black
======================================
The Used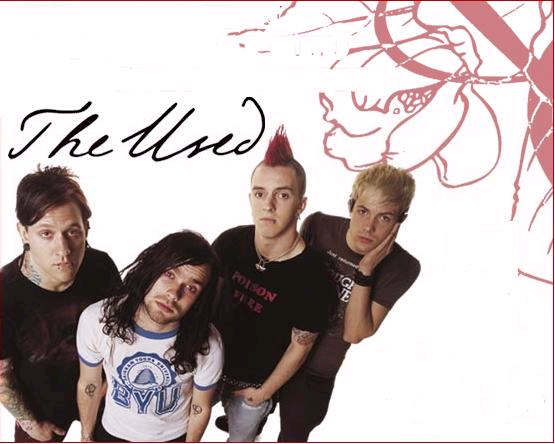 http://www.youtube.com/watch?v=RZxPZGtZknc


All That I've Got



So deep that it didn't even bleed and catch me
Off guard, red handed
Now I'm far from lonely
Asleep I still see you lying next to me
So deep that it didn't even bleed and catch me I..

I need something else
Would someone please just give me
Hit me, knock me out
And let me go back to sleep
I can laugh
All I want inside I still am empty
So deep that it didn't even bleed and catch me I...

I'll be just fine
Pretending I'm not
I'm far from lonely
And it's all that I've got

I'll be just fine
Pretending I'm not
I'm far from lonely
And it's all that I've got

I guess, I remember every glance you shot me
Un-harmed, I'm losing weight and some body heat
I squoze so hard
I stopped your heart from beating
So deep that I didn't even scream f**k me, I..

I'll be just fine
Pretending I'm not
I'm far from lonely
And it's all that I've got

I'll be just fine
Pretending I'm not
I'm far from lonely
And it's all that I've got

And it's all that I've got
Yeah, it's all that I've got
It's all that I've got
It's all that I've got
It's all that I've got!

So deep that it didn't even bleed and catch me
So deep that I didn't even scream fuck me

I'll be just fine
Pretending I'm not
I'm far from lonely
And it's all that I've got

I'll be just fine
Pretending I'm not
I'm far from lonely
And it's all that I've got

And it's all that I've got
Yeah, it's all that I've got
```````````````````````````````````````````````````````````````````````````````````````````
````````````````````````````````````````````````````````````````````````````````````````````
The Rasmus



http://www.youtube.com/v/alwBmF2HLvg



In The Shadows



No sleep
No sleep until I am done with finding the answer
Won't stop
Won't stop before I find a cure for this cancer
Sometimes
I feel I going down and so disconnected
Somehow
I know that I am haunted to be wanted

I've been watching
I've been waiting
In the shadows for my time
I've been searching
I've been living
For tomorrows all my life

In the shadows

In the shadows

They say
That i must learn to kill before i can feel safe
But I
I'd rather kill myself than turn into their slave
Sometimes
I feel that I should go and play with the thunder
Somehow
I just don't wanna stay and wait for a wonder

I've been watching
I've been waiting
In the shadows for my time
I've been searching
I've been living
For tomorrows all my life

Lately I been walking walking in circles, watching waiting for something
Feel me touch me heal me, come take me higher

I've been watching
I've been waiting
In the shadows all my time
I've been searching
I've been living
For tomorrows all my life
I've been watching
I've been waiting
I've been searching
I've been living for tomorrows

In the shadows

In the shadows
I've been waiting