My Sharona.
Name:

SharonA


Age:

-


Gender:

Female


Location:

lost

Contact
About
Sharona



♥I'm already half blind
______I only see the world in black and white♥


MCR are, and always will be, one of the most important things in my life. I may not listen to them non-stop anymore. I may not have much merch. I may not even be particularly interested in their personal lives. But they've affected me in so many ways, and I really wish I had the chance to meet them and tell them that.

Gerard Way. Mikey Way. Frank Iero. Bob Bryar. Ray Toro.
Five incredible men that have influenced me to be a better person in so many ways. I don't think I could ever really repay that in any way. Except to keep spreading their message.

Some people call me a poser because I started liking them after Revenge. I don't really see why this changes everyone's outlook on me. As far as they should be concerned, this isn't a phase. I don't like them because 'omfg the lead singer gerald is soooo hott!!!11!1'. I don't like them because they're 'cool'. In fact, most people I know actually dislike them. How does that make me a poser?



Music is my life.





>A million walking paradoxes.<




I hate stereotypes and labels, due to the fact that I get called names every day.

I also don't like most mainstream music. But that doesn't mean if a song is actually good, I'll hate it on the basis that it's played on commercial radio.


My favourite picture of Gerard.



And my drawing of it...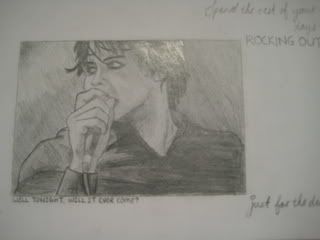 ♥My favourite music♥



♥My Chemical Romance.
♥Taking Back Sunday.
♥Yellowcard.
♥The All-American Rejects.
♥Rise Against.
♥Avenged Sevenfold.
♥The Used.
♥AFI.




Click here? Pretty please?

add me: www.myspace.com/shazyrox =]