mein herz brennt
Name:

marium


Age:

32


Gender:

Female


Location:

manchester, UK

Contact
About
yes it may own me (lmfao), but does it own u??
they might be bloody & fucked up but u can't say they're still not hot & sexy <3
Ray: ack sun in face get it away from me before i burn
Bob: Ray the sun is never gonna hurt you, if it does i'll beat it up for you, i promise
Ray: thnx dude ily *pecks bob on the cheek*
Gerard, Mikey & Frank : We saw that
Bob & Ray *shocked* : No u didn't
Gee : dude u forgotten i have another pair of eyes at the back of my head
Bob, Ray, Mikey & Frank: oh yeah forgotten *all start ltfao at gee*
Gee: ahhhh let me get back to looking my pretty sexy self in this photoshoot
what I love about MCR
1. They have gotten through so much in life, e.g. they beat addiction, drug & alcohol abuse & depression
2. Their lyrics are powerful, inspiring & meaningful & THEY DO NOT MAKE ME SLIT MY WRISTS OR TEMPT ME INTO COMMITING SUICIDE
3. their music had helped my confidence grow, move on in life & it also had got me out from nearly falling into 'the six feet' under trap
4. It's keeps me feeling fearless when in the hardest times
5. They inspire to never give up in life & live it, as life is too short
6. their music is my comfort, it comforts me when i get down or if i'm feeling really pissed off
7. they give me my high to get through the day
8. they're my heroes & i love them
9. they respect other people's opinions
10. they have taught me to never take any shit from anyone, at all
these guys are my heroes <3
GERARD WAY
FRANK IERO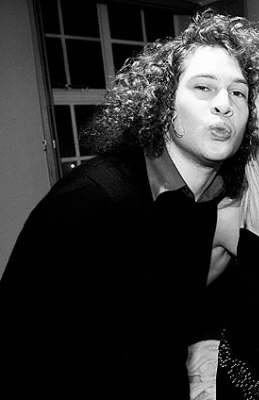 RAY TORO
MIKEY WAY
BOB BRYAR
AND TOGETHER THEY MAKE
MY CHEMICAL ROMANCE <3<3<3<3<3
MY FANART!!!!!!!!!!!!!!!!!!!!!
Frerard forever <3<3
& visit my deviantart
http://www.sweetyoshimj.deviantart.com
for more of 'crappy' drawings
ME!!!!!!!!!!!!!!!!!!!!!!!!!!!!!!!!!!!!!!!!!!!!!!!!!!!!!!!!!!!!!!!!!
me, mol (ILuvJasonD),vick & charley <3<3