RaveyWay
Name:

Raven Wakefield


Age:

28


Gender:

Female


Location:

Cemetery Drive

Contact
About
Heyy
I'm RAVEN but people call me RAY
I have a few obsessions that you people should probably know about:
Gerard Way
Coca Cola
Gerard Way
Bagels
Skittles
Coffee
Gerard Way
My Chemical Romance
Donnie Darko
Transformers
Happy Tree Friends
Gerard Way
So, the obsession with

Gerard Way

is a pretty big one, as you can tell. But you try telling yourself that he's not goddamn sexy. You can't do it? Thought not.

My favourite bands aree:
My Chemical Romance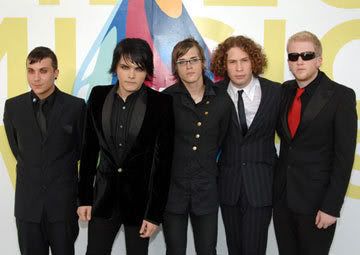 Fall Out Boy
Yes that's nice, Pete, but we all love you, you crazy son of a bitch
I have other favourite bands too, my world doesn't revolve around these two.
The Used
30 Seconds To Mars
Thursday
Taking Back Sunday
Green Day
Placebo
The Misfits
Pencey Prep
And so on and so forth...
I do love my music, but I have other interests too. For example, I have been playing guitar for 7 months now. I'm apparently

good

but maybe I'm just being modest. I like to draw things. Anything if I can. Mostly I draw people in bands. I find it easier to draw people. I also draw things from my imagination too. I don't think you'd really like to know tbf. I like to watch Horror Movies. Not the ones where a preppy cheerleader is getting chased all the time,( and then falls over and gets killed), I like the horror movies, that actually

have

a storyline to it. I also like to read comics too. Any type of comic. Horror, fantasy, comedy, anything. I just hate beano thogh. I think it's the

worst

comic in the world.
Okay, that's enough of rambling on.
Thanks for reading
xoxo