XxMarie-MCRMYxX
Name:

Marie


Age:

32


Gender:

Female


Location:

Nuneaton,United Kingdom

Contact
About
"Your going to come across a lot of shitty bands, and a lot of shitty people. And if anyone of those people call you names because of what you look like, or because they don't accept you for who you are. I want you to look right at that motherfucker, stick up your middle finger, and scream FUCK YOU!"- Gerard Way
About Me
Marie
Taken
Openminded
Free Spirited
Isn't Perfect
Is proud to be ugly
will hurt you,if you hurt me
Supports gay rights
Not a vain girl
Loves Random Things
Doesn't give a damn with what you think of her personality
Is taken leave me alone
Hates her sister
My Girlfriend
I have a girlfriend end off =]
If you ever felt
Alone
If you ever felt
Rejected
If You Ever Felt
Confused
If You Ever Felt
Lost[/b>
If You Ever Felt

Anxious


If You Ever Felt

Wrong


If You Ever Felt

Wronged


If You Ever Felt

Unclean


If You Ever Felt

Angry


If You Ever Felt

Ashamed


If You Ever Felt

Curious


If You Ever Felt

Used




Be Prepared To Feel Revenge




Feel The Romance


My

Brutal

Romance
My

Beautiful

Romance
My
Miserable
Romance[/b]
My
X-rated
Romance[/b]
My
Harlequin
Romance[/b]
My
Innocent
Romance[/b]
My
Selfish
Romance[/b]
My
Childish
Romance[/b]
My
Pathetic
Romance[/b]
My
Scandalous
Romance[/b]
My
Watercooler
Romance[/b]
MY CHEMICAL ROMANCE
THIS IS DEDICATED TO EACH & EVERY MCR FAN:
Who was a demolition Lover.
Who was NEVER okay.
Who was welcomed to the black parade.
THIS IS TO:
Every Patient, Helena & harmless vampire.
Every single fan who may never see them play.
TEAM BLONDE GERARD, rest in peace my friends.
Everyone that cracked that one "Back In Black" joke.
Those who mourned Mikey's glasses.
Those who live Life On The Murder Scene.
Those who cried to The Ghost Of You.
Those who cried to Famous Last Words.
Those who worried about Bob & his burn.
You who helped Gee stay sober.
Those with an obsession with Ray's hair.
Those who love Frankie Iero...you know who you are.
Everyone who is not afraid to keep on living.
Let's Crash The Cemetery Gates.
We will have the band, and each other, forever.[/b][/center]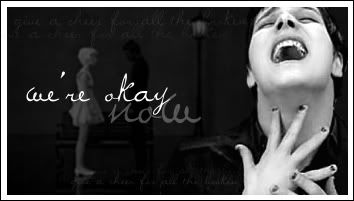 Photos