Mrs_Jacob_Black
Name:

Jade!!!


Age:

31


Gender:

Female


Location:

P.Sherman42 WallabyWay,Sydney!

Contact
About

Ummmm...
MY CHEMICAL ROMANCE!
ALL TIME LOW!!!!!!!!!!
FOREVER THE SICKEST KIDS!!!!
Taking Back Sunday
Avenged Sevenfold
Boys Like Girls
Aiden
Flyleaf
Three Days Grace
Underoath
Rise Against
Lost Phrophets
Chiodos!
Cute Is What We Aim For
Scary Kids Scaring Kids!!!!!!!!!!!!
Alesana
AFI
Senses Fail
HIM
Norma Jean
Fall Out Boy
Paramore
Yeah Yeah Yeahs
The Almost
Panic!At The Disco
Billy Talent
Marilyn Manson
Escape The Fate
The Used
Silverstein
COBRA STARSHIP!!!!!!!!!!!!!!!!!!!!!!!
I have a lot more but i'm just too lazy to type them all!
Project Revolution ROCKED!!!!!!!!!!!!!!!!!!!YAY!!
One of the best days of my life!!!That day was the day i saw MCR 3 times!!!!
HAHA
I went to Warped Tour on July 13th!Lucky 13th!and i went to the 2008 warped tour ! where i met alesana and forever the sickest kids and reliemt k and cobra starship !
Another one of the best days of my life
Every band ROCKED MY SOX!!
HAHA
I suprisingly think my sis is the best!!!!!For a 6th grader she is freakin awesome!She is soo awesome that...........I TOOK HER TO PROJEKT REVOLUTION!!!!!!
LOL.
I also have a twin brother named Jacob.He is pretty awesome too.We pretty much look the same except i look like a girl and...well.....he looks like a guy.i guess we have our different ''features''.I dont like little kids, i have a small case of OCD,and well...thats pretty much it so if u wanna kno anything else just ask!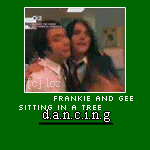 Photos