x-MCR-rock-x
Name:

Loo


Age:

31


Gender:

Female


Location:

-

Contact
About
First of all anybody that went to the MCR gigs on the 11th and the 15th PM me.
First of allThings you need to know:
I am quite a strange person,
I think alot, it's pretty random most of the time,
I'm very opinionated and I will stand up for what I believe in,
There are ceratin things about people that I can not stand, such as: Ignorance, racism, homophobia, pretending to be something you're not / fakeness, nastiness, elitism, close-mindedness etc,
I would like to think that I'm a good/nice person but I guess your opinion of yourself is invalid,
I'm a very quiet person most of the time and I find it hard to deal with new people and sometimes just people in general,
I don't really have any friends,
I think I'm quite different to the teenagers where I live,
I'm quite a closed off person and I tend to spend alot of time alone,
I'm such a loser,
I love watching movies,
I don't purposely kill bugs,
I'm a vegan,
I feel strongly about animal rights,
I like to ask questions,
I want to be a guitarist,
I absolutely LOVE My Chem,
One of my favourite MCR lyrics is "Like a bed of roses there's a dozen reasons in this gun.",
I like to learn about other people's thoughts, feelings, beliefs,
I feel like I'm older than I am but in a good way,
I think that I think quite differently to the people I know that are my age,
I guess I'm just different.
MY LIKES:
Vegans,
Vegitarians,
Music,
My Chemical Romance,
Frank Iero's tattoos,
People who stand up for gay rights and animal rights,
People who stand up for what they believe in,
Lip and nose rings,
Tattoos,
Photos,
Clothes,
The internet,
Eyeliner,
Animals,
Books,
Movies,
Fan Fics,
Coca Cola,
Vegan bacon,
Black nail varnish,
Kooky people,
Charities,
Popcorn,
MY DISLIKES:
Homophobes,
Racists,
Close-minded people,
Meat/animal products,
Animal testing and cruelty,
Football,
Bullies,
School,
Two-faced people,
My favourite bands are:
MCR,
MSI,
P!ATD,
The Used,
The Killers,
Green Day,
30 Seconds To Mars,
Thursday,
Rise Against,
Taking Back Sunday,
Gallows,
The Beatles,
Leathermouth,
I'm trying to discover alot more bands at the minute so if you have any recommendations please P.M me........................................
I love, love the song "Demilition Lovers" so much and it all just contains soo much feeling and emotion that it gets to you. You can hear it in Gerard's voice on everything he sings but especially DL. He is AMAZING at conveying emotion in his lyrics and voice. Even the music has incredible feeling and emotion. I don't remember the first time I heard it but I was probably amazed and really emotional afterwards. This song just sucks you in and you can't help but feel everything and listen. I think it's astounding the way My Chem's music makes people feel, think and react. Their songs provoke astonishing feelings for me and I think a lot of other people too and their music truly is like nothing else. I have never seen or heard of a band affecting so many people and making people feel this way and it's unlike anything I have ever heard and for me ever will.
When a band can do what they do I think it's just plain ignorant for people to dismiss them or like them for the wrong reasons because they are so much more than that. I think they have something really special and even when the band is over I think they will still keep affecting people and making them feel this way.
I love hearing about how MCR affect other people. MCR fans have some amazing stories.
For a group of people to be able to do this and make people feel the way alot of us do just through music and lyrics and through people's headphones or speakers is incredible and they have saved so many lives and given so many people a reason to live, be happy, stop them from hurting themselves and they help people deal with alot and they do all this without having to do anything but sing and play.
That is something I don't think I will ever get over.
This is possibly one of my favourite pictures of My Chem.
I LOVE, LOVE, LOVE THIS PICTURE!!! I don't really know why but I think it is awesome.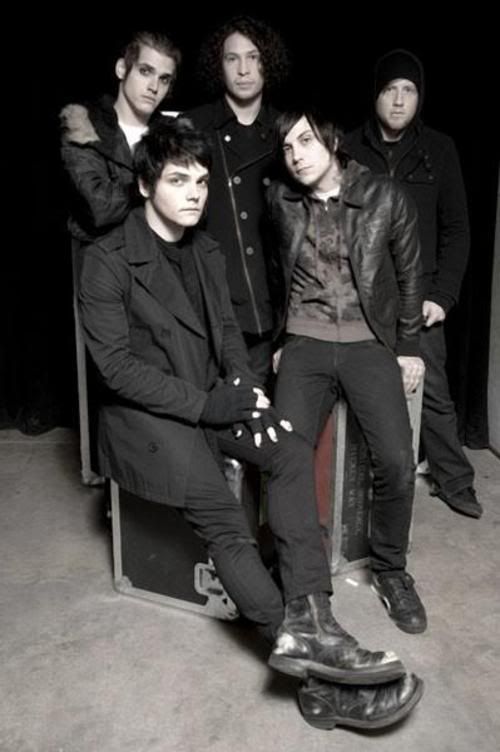 I love how pixie-like Gerard looks in this picture and how they are all so close to each other.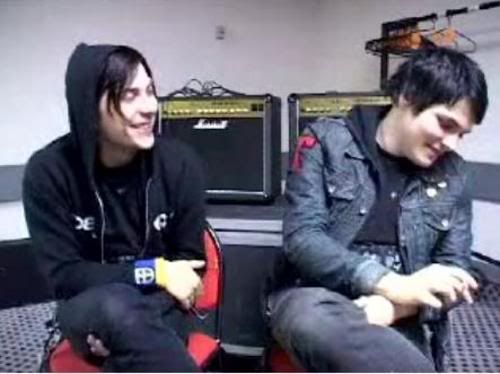 That is one of the most AWESOME interviews and videos EVER!!!
I could watch Frankie play for hours and hours. I think it is so enthralling to just watch him put his heart and all his energy in something he so, so, so obviously loves. I know this probably sounds majorly corny or w/e but in my opinion it is magical to watch him.
I could also watch and listen to Gerard sing for just as long. He is also totally, totally, totally captivating. I think it is so important to appriciate how much of his emotion he puts into performing. He has a way of connecting with everybody in the audience and I think that is very special.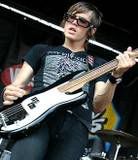 I think I am probably a little bit like Mikey. I love, love, love the way he stands/looks when he is onstage and obviously I think he is an amazing bassist. I also like the way he is kind of in the background just doing his thing.
I think Ray has quite possibly got the best hair I have EVER seen!!! I am utterly, utterly, utterly jealous of his skills and I think he is such a fantastic musician. Sometime when I watch him play my mouth drops open in amazement.
I think Bob is wicked. He seems like such a cool guy. I think him hating cameras is absolutely adorable. I basically love him just like the rest of the guys...