Mrs.!Dorky!Zee
Name:

Zenia


Age:

29


Gender:

Female


Location:

West covina,CA

Contact
About
Hello,well my name is zenia a.k.a. ZEE!!(arlete,my BFF came up with it!!isnt cool xD)and i love MCR,they saved my life and keep on doing it :]im a kid who wears black,who people wont hang out with. i have a bit friends but i cant relate to them in music but im glad they talk to me.i hate being insulted,and i don't care about your opinion.i love photography.i love coffee.i love pudding,chocolate cake!!i'm quite and shy.i worry too much.i hate people who label.i love to drawing && creating stuff .i have a dog,who i tell everything to,weird,but its good since i dont have no one to talk to.i love my troubles(my dog)June 1st is the day i was was born.i attend Traweek Middle School.I'm 5'3".
My Chemical Romance is my favorite band. I love them all!! they inspired me to do things.frank is so awesome and I love that he plays with his heart and soul,he has lot of energy ,he is so outstanding on stage. Bob is amazing, he has inspired me to play drums and one of these days I will!
he's the greatest drummer,Im alike to him and I love him ! Ray ohh ray he does amazing solos and also plays wih his hearts and soul,ray and frank inspired me to play guitar,and mikey he's so Coolie. =] and i love him so much,he's a good bass player,w/o him the band wouldnt be complete,They all have saved my life in the past and still keep doing it . I will never change them for anything in the world even if they would pay me a million dollars or more.If they hadn't exist I would be fucked up and messed up with my life.sometimes i am fucked up but they are there to help me,I would not know what to do with my life and problems.they have always been there for me and I will always been there for them, they have taught me to keep on living and to never be afraid to walk this world alone,that they are five dudes just as messed up as me, never give up,That being different Is
very okay,they have taught me to not take nobody's shit and to never let them take me aliveee!! && I have learned right from wrong from them && they have got out of my head suicidal thoughts.I owe them a lot and want to thank them.They are more than a famous band,they are a Family.I Will ALWAYS be there for them when they need me♥ Because of Mikey, I Learned to look wicked kool with glasses && be as happy as can be.Because of Frank, I ganna learned to play guitar. Because of Ray, I will learn at least one of his solos! Because Of Bob, I learned how to keep the tempo good and strong && because of gerard i have become a better person and learned to draw!Because of them i learned that we're no one to judge but ourselves.Because of them i learned the definiton of Revenge. I LOVE MY CHEM!We're an Army && Strong We Will Survive
<33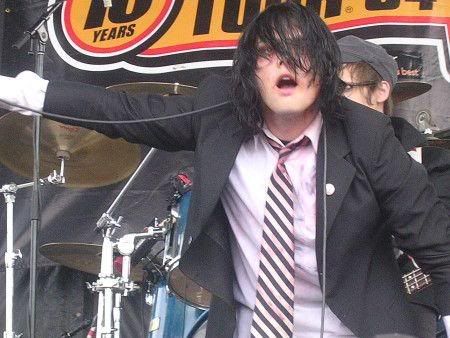 i love this dude,with all my fucking heart.he's my fav. member.he's my hero,my idol,my savior.he and the band he started saved my life.he made me accept myself for who i am.he taught me that its okay to be fucked up,its like he talks to me.im alike to him.he just means the whole world to me.he says beautiful things......
"Hey, girls, you're beautiful. Don't look at those stupid magazines with sticklike models. Eat healthy and exercise. That's all. Don't let anyone tell you you're not good enough. You're good enough, you are too good. Love your family with all your heart and listen to it. You are gorgeous, whether you're a size 4 or 14. It doesn't matter what you look like on the outside, as long as you're a good person, as long as you respect others. I know it's been told hundreds of times before, but it's true. Hey, girls, you are beautiful. "-Gerard Way