IMxNOTxOK
Name:

Sarah


Age:

-


Gender:

Female


Location:

FL

Contact
About

hi!
im sarah
im a music freak!
without music i would go CrAzY
i hope to be a producer some day [if not anything else that has to do with music]
im nice to most ppl and i can get really hyper sumtimes!
MCR is my alltime fav band!
my fav song is prison [ didnt want to put the whole thing. to long]
2nd fav is to the end
i want to meet them REALLY bad!!
list of things to do before i die
i hate:
posers
fangurls
ppl that think evrything has to revolve around them
whores
i like:
music[ duh...]
concerts
coffee [STARBUCKS!]
hanging out with chloe! =]
posters
sleeping


i am:
a concert addict!
ive been to about 8 this year if u include the ones my mom drags me to. if not then 5.
i have an amazying awsome concert buddy named chloe!
i <3 her like crazy!

i also like ddr and white chocolate mochalattes from starbucks![yum!]

my favorite book right now is: tithe

my favite movie in theatres right now is :transformers [its REALLY good!!!]

[color=crimson]
About Me and MCR
mmk well i guess ill start off by saying tht the first time i heard them was in the car with one of my best friends and back then i guess you could say i was still trying to find myself. i used to listen to watever was on the hit station which was mostly rap. i didnt really listen to much else. when i first heard that song i didnt know who it was or wat song it was i just knew the radio station. after that i started listening to 97x [our alternative station] and started watching fuse. after a while i started hearing that song more and i borrowed the cd from one of my other friends and copied it onto my comp. i was literally in awe after i finished listening to it! and for about half a year it was the only cd i listened to [other than linkin park] just because its all i really knew and had on my ipod. ever since then they have always been one of my favorites. when the black parade came out it [again] put me in a state of awe[
] it freakin blew me away! it also made me realize how much i really love those guys =] i borrowed my friends 1st mcr cd and it did it to me again! i honestly couldnt stop thinking to myself "wow they are fuckin beautiful!" and it leads up to my not in a teeni-ish way of obsession. and overall they changed my life. they changed my point of view in MANY things and because of LOTMS i saw wat kind of shit gerard had to go through when he was drunk and on drugs i decided to be sober to. they influenced wat i wanna do when i get older and taught me to stand up for myself. they to me are the 5 most gorgeous, amazying, and talented guys on the earth and NOTHING can change that =]]]
[color/]

CHLOE!!
yes i am dedicating a whole section about the most amazying girl in the whole freakin world! =]
chloe i effing LOVE you
i dont know how i didnt know you for so long!
you are my best friend in the WHOLE world!!!
you r so special to me
i swear you are my long lost sister =P
you truely are the greatest friend in the world
so thnx =]]
i would GLADLY fight off an army of clowns in the middle of a thunderstorm on the corner of a cliff for you
i put you in front of almost EVERYTHING
i honestly dont know wat id do without you
ily!!!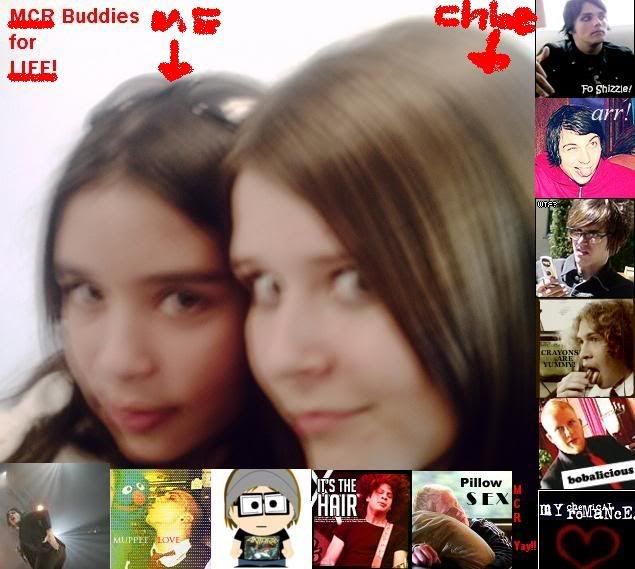 other bands that i <3 :
the used [saw them!]
P!ATD
Fall Out Boy [saw them!]
The Red Jumpsuit Apparatus [saw and met!]
Underoath
The Almost [saw and met!]
Paramore
The Academy Is... [saw them!]
Pency Prep [=DDD]
From First To Last
Saosin
30 Seconds To Mars
Taking Back Sunday [saw!]
Cobra Starship
Gym Class Heroes
Chiodos
Aiden
a really good local band called Trace of Day [saw and met!]
The White Stripes
Retard O Bot
System Of A Down
and lots more ^__^
wanna talk?
click the button!
^.^


92% of teens move on to rap music. If you're part of the 8% that rock out every day, put this in your profile.


Stereotyping

I am the girl who dresses in all black and never got to finish middle school because I was called emo everyday.
I am the friend afraid to tell you that I'm bisexual, because you'de leave me for it.
I am the girl who loves to read and is pushed into the corner and beat up because of what I love to do.
I am no one. Just the kid that was pushed to far at school for being emo and cut a little too deep.
I'm the teenager who was kicked out of her house because I was caught hugging my girlfriend.
I am the woman who commited suicide just before I graduated highschool. Since I'm a CheerLeader, no one suspected it was coming.
I am the best friend who just found out she has AIDS, and is afraid to tell her parents because she'll be considered gay. My parents would never accept me if I was.
I am the athlete evryone expects to be perfect, when in reality I'm sneaking heroin between games.
I am the girl who is called a slut everyday because I can't afford to buy new clothes every year. My skirt doesn't cover what I want it to.
I am the sibling forced to clean their sister's blood off of the carpet. Why didn't I see it coming?
I am the boy who wakes up crying because the bruises my parents gave me hurt so much, but aren't even noticed because I'm always wearing the baggy clothes the kids in gangs wear.
I am the girl who got raped at twelve and am considered a whore because of it.
I am the gullible parent who let my child hurt themselves. No one can know this. We have to keep this secret. We have to be
-----------------------PICTURE
----------------------PERFECT...

If you believe stereotyping is wrong, PUT THIS IN YOUR PROFILE!!!

my name means:
S- easy to fall in luv with
A-likes to drink [i actually dont like alchohol at all! i plan on staying completely sober]
R- Fuckin CrAzY (in a fun way)
A- likes to drink[no i dont!]
H-You have a very good personality,looks and a very good kisser

----///-\\\----Put This
----|||--|||---On Your
----|||--|||---Site If
----|||--|||---You Know
----\\\-///----Someone
-----\\///-----Who has or has
------///\-----died of
-----///\\\----cancer xxx
----///--\\\---