Skyway Avenue
Name:

Cecily


Age:

28


Gender:

Female


Location:

MD baby!

Contact
About
Peace,
Love,
&
Understanding
Pretty
Emo
Guys

so before you read further you should know this
page is full of

crap

.good crap mind you but crap non the less.. read it if you want.. i

really

dont care..
right so before we get further i figured i should just say a little about me. whee. fun right?! hell yeah!
• music is everything
•hot topic is amazing
•concerts are the best espically ones with moshpits.
• i love tea
• my ipod is my constant companion.

••••


Former User Names-
Rock And Roll Baby
Eyelinered Tears
Running From Lions
Grand Theft Autumn
Newport Living
Music Or The Misery
Becky Starz






My INO Family ( its tiny dont laugh!)


My Hyper Active Murder is Zoe


My INO Anything is


Jandy


My Concerts




2007




June 4th- Honda Civic Tour




Fall Out Boy +44 The Academy Is... Paul Wall Cobra Starship


July 25th- Warped Tour
I can't even begin to list this
Young Wild Things Tour
Fall Out Boy, Cute Is What We Aim For, Gym Class Hero's, Plain White T's


2008


February 2cd-
Disciple, Article A, Under Command
March 1st-
Kronicles
April 15th-
Avril Lavigne and Boys Like Girls






Ok i hope your ready for this......it's my TOP 5's[ or maybe 6ix's =)]!!!!!!
Top 6ix Songs (Because i couldnt decide!)
1) Skyway Avenue- We The Kings
2)Ohio Is Only 6 Hours Away From Here- Larkins Call
3) Becky Starz-Forever The Sickest Kids
4)Shameless- All Time Low
5) The City Is At War- Cobra Starship
6)Let The Flames Begin- Paramore






Top 5ive Albums
1) So Wrong It's Right
2) Oh, The Places You'll Go
3)We The Kings
4) Television Off, Party On
5)RIOT!
Top 5ive Bands
1) We The Kings
2) All Time Low
3) The Hint
4) Larkins Call
5) Forever The Sickest Kids
More Things I Totally Adore
smiles,
eyemakeup,
my cat,
shoes,
fall out boy,
black,
music,


my violin,
bracelets,
water,
ice cream,
nail polish,
my ipod,
bandanna's,



musical cards,
band tshirts,
concerts,
warped tour,
and
being in front at concerts!!!
i might have to add more later...


I Hate These Things
moshpits,
salmon,
jellyfish,
having crowd surfers dropped on me ( totally not cool fopr all those who haven't experienced it. i highly do not recommend it!)
Dawn and me. good times in the car baaaby!




My Full Band List
FOB, MCR, RJA,forever the sickest kids, lights out dancing, the hush sound, avril lavigne, cute is what we aim for, the academy is, cobra starship, run doris run, family force 5, boys like girls, a skylit drive, bullet for my valentine, paramore, all time low,anberlin, escape the fate, AFI, alien ant farm, alkinline trio, the almost, amber pacific, as i lay dying, kill hannah,linkin park, sum 41,macthbox romance, the matches, madina lake, the early novmember, my american heart, new found glory,mayday parade,sherwood,taking back sunday,30 seconds to mars,+44,the hint, gym class heroes, drop dead georgeous, from first to last, funeral for a friend, gym class heros, hawthorne heights, hellogoodbye, ok go, lifehouse, Lovehatehero, P!ATD,plain white t's, poster boy material, sense fail. three days grace, the used, anti-flag, new found glory, umm..i think thats all







My Fave Music Videos!


right now there aren't to many because i'm revamping my fave's
Fall Out Boy- Thnks Fr Th Mmrm's

When I Get Home You Are So Dead- Mayday Parade

We The Kings- Skyway Avenue

Dear Maria, Count Me In- All Time Low



My Fave Bands Ever And Why I Love Them




Fall Out Boy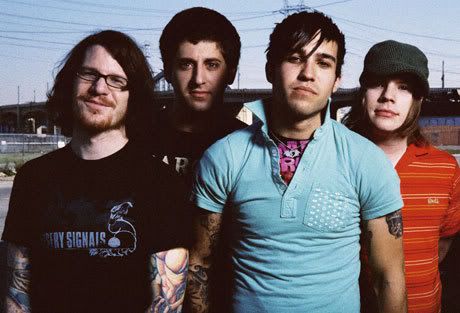 Honestly there's really not that much to say is there. They are just amazing. Patrick is so

vocally

musically

talented im not saying that he's not voacally talented to.. in fact he's got a great voice. but musically stands for all of his musical talents... Pete's gorgeous and i love him so much so i dont really care if he can play the Bass or not. Though i would like to think that he can just because it makes him even more amazing. Andy is one of my favorite drummers. He's always seems so quiet when ever he's not playing but you give him a drum set and he knows how to play. Joe is just..well.... he's just Joe. You can't really describe him. you love him or you hate him. its simple as

that

My Chemical Romance
MCR is completley amazing to. They all are so just well...

amazing

...


Red Jumpsuit Apparatus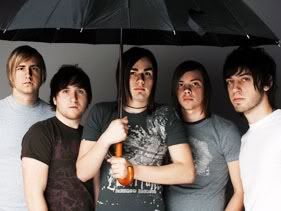 i have to say that they are the most amazing scremers live. they know how to work a crowd and keep it going. not that thats always a good thing. but usally it

is

.



All Time Low
they are amazing. i saw them at Warped Tour and they were definatley at the top of all the bands. Alex has an amazing voice and soo much musical talent. so does everybody else in the band. plus they are all pretty so how can you go wrong?
Photos