annaaloves
Name:

Anna


Age:

29


Gender:

Female


Location:

waless

Contact
About
I believe an introduction is due...
I always felt the need to prove something on these 'about me' things but now i don't feel the need to...I'm Anna.
For once, im actually enjoying my life, its a question of thinking positive and not caring about little details.
I'm not one of those cool kids and i don't intend to be. I don't want anyones approval but i don't want to be judged either, so keep your narrow-mind views to youself,yeah?
I am one of those people who get amused easily.
I'm not going to give you the 'music is my oxygen' bullshit because it isn't, i just listen to it an awful lot, my favourite bands are My Chemical Romance, Leathermouth, Gallows, Bring me the Horizon and Green Day, otherwise, im pretty much open to anything.
the scene and emo trend annoys me immensely....or any trend for that matter. Even when you choose to remove yourself from this 'labelling' system, people still insist on dragging you back in, it pisses me off to the max.

Five Tales of a Chemical Romance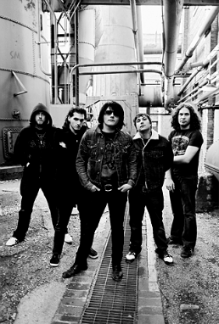 As much as i love writing these i find it difficult to express just how much these five guys means to me.....



This band haven't actually saved my life but they changed it, These guys have as importance to me as what my friends and family do.
Not only is their music amazing but they're words and lyrics speak volumes to me. They have saved me countless times from frustration and confusion, whenever i feel unsure of myself they put my mind at ease. I haven't been a fan for that long, just over 2 years to be exact but in that space of time they opened my eyes so much and made everything clear, they taught me to be myself and to be comfortable with it, they helped me accept myself because they were five guys who were just like me at one point, they opened my mind, they taught me to stand up for myself and not to take shit from anyone. They have been my heroes for two years and its never going to change. I am also part of the greatest fanbase in the world, i am so proud to call myself a My Chemical Romance fan.
Keep
the
Faith.
Photos