LeATHERMOUTH.
Name:

Samar


Age:

29


Gender:

Female


Location:

Monreoville

Contact
About
So...
i'm Samar.
This guy, is my hero and my inspiration for everything. he is a legend. 'nuff said.
he's so fucking pretty as well. let's post another
awwww. a beautiful picturee of a beautiful man
I like meeting new people. i like talking to new people. i like going to new places. i like to imagine up things and make up stuff.
i tend to live in my head, in an imaginary land called s'marrland. it's quite nice. the most amazingest people live there. yes i can be weird.

i try to be nice and polite to people i don't know. i'm not one to speak my mind, or tell someone if they're annoying me. music is my life. it comes before anything and anyone in my life. i couldn't survive without it. i write songs, as a way of letting things out and expressing my opinions or feelings, usually though, i write about how much i hate certain people and how i hope they die. slowly and painfuly. nice. ((: I hate alot of people. and i mean ALOT of people. but don't worry, i don't hate everyone though, just people who have done something to me in the past, or people i don't get along with. so if i don't know you, i try not to make assumptions and i'm generally nice. i spend alot of time on my laptop. my favourite color is
black
, even though it's not actually a color.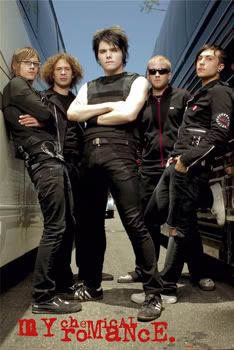 My Cheimcal Romance are my inspiration and my heroes and my icons and my favourite band in the whole wide world ever. 29/3/07. MCR own. 'nuff said.

Fall Out Boy are my second favourite band and are just plain awesome.
22/10/08 was lurrrrrve <3
who ever thought that a sexy, male bass player, such as Pete Wentz, could write such unbelievably amazing lyrics. and believe me, he is all male ((;

Then, other bands I totally love are:
A.F.I., The Academy Is..., Aiden, The All American Rejects, All Time Low ,Amy Winehouse, Anberlin, Anti-Flag, Armor For Sleep, Atreyu, The Audition, Avenged Sevenfold, Beastie Boys, The Beatles, Biffy Clyro, Billy Talent, Black Tide, The Blackout, Blaq Audio, Bleeding Through, Blessthefall, Blink 182, Bloc Party, Boys Like Girls, Brand New, Breaking Benjamin, Bright Eyes, Bring Me The Horizon, Bullet For My Valentine, The Cab, Chiodos, Cobra Starship, The Color Fred, CSS, Cute Is What We Aim For, A Day To Remember, The Devil Wears Prada, Dir En Grey, Eminem , Enter Shikari, Escape The Fate, Eths, Evanescence, Everytime I Die, Fightstar, Flyleaf, Foo Fighters, Fountains Of Wayne, The Foxboro Hot Tubs, The Fratellis, The Fray, From Autumn To Ashes, Gallows, Good Charlotte, Green Day, Guns N Roses, Gwen Stefani, Gym Class Heroes, Haste The Day, Hawthorne Heights, Head Automatica, Hedley, Hellogoodbye, Hey Monday, HIM, The Hives, The Hoosiers, The Horrors, The Hush Sound, I Am Ghost, Inhale Exhale, Iron Maiden, Jacks Mannequin, Jack Johnson, Jeffree Star ,Johnny Cash, Katy Perry, Kelly Clarkson, Kids In Glass Houses, Kill Hannah, The Killers, Kings Of Leon, LeATHERMOUTH, Lifehouse, Lily Allen, Linkin Park, Lostprophets, Mahine Head, Madina Lake, Marylin Manson, Maroon 5, Matchbook Romance, Mayday Parade, The Medic Droid, Metro Station, Midtown, Mindless Self Indulgence, The Misfits, Murder By Death, Muse, My American Heart, New Found Glory, Nightwish, Nine Inch Nails, OneRepublic, Panic At The Disco, Papa Roach, Paramore, Pencey Prep, Pink, Pixies, Placebo, Plain White T's, Prototypes, Queen, Queens Of The Stone Age, Radiohead, Rage Against The Machine, Red Hot Chili Peppers, The Red Jumpsuit Apparatus, Rise Against, Soasin, Say Anything, Scary Kids Scaring Kids, Seether, Senses Fail, Serj Tankian, Shiny Toy Guns, Simple Plan, Slipknot , The Smashing Pumpkins, The Spill CanvasStereo Total,Sum 41, System Of A Down,Taking Back Sunday, This Providence,Thursday, The Ting Tings, Tokio Hotel,U2, Underoath, The Used, Vampire Weekend, Velvet Revolver, We The Kings, Weezer, Wheatus, The White Stripes, Within Temptation, Wolfmother, Yellowcard, YouMeAtSix, 30 Seconds To Mars, +44

and of course
Britney Spears xD

pheww, glad thats done, my fingers hurt from the typing xD

Current obsessions:

LeATHERMOUTH, The Academy Is...
Totally Awesome Bands
The new LeATHERMOUTH album is totally amazing, Frank, you've done us proud. *clapss for frank*