Zee Is The Macaroni
Name:

Lizzy


Age:

-


Gender:

Female


Location:

In Ray Toro's closet

Contact
About
I love music. Seriously, it's my life. If it wasn't for my love of music, I doubt that I'd still be around. The bands that I'm usually listening to are My Chemical Romance and Green Day. I truly idolize both those bands to their full potential.
I also love writing. It's my way of releasing all of my emotions. I'm always writing. Whether it be some about some random subject or a fanfic that I'm planning on posting.
Other things. My favorite color is green. My favorite song is "Rooftops" by Lostprophets. They're pretty rad. If you've never heard of them, look 'em up 'cause you're missing out on a pretty awesome band. I'm in the process of learning how to play the bass guitar. I'm not doing so well currently, but my parent's are getting me a tutor soon, which will be pretty cool.
I'm not bragging, but I love my birthday. I was born on July 15 in Agauna, Guam, which is a tropical island in the Pacific Ocean. No, I'm not foreign, I was just born outside of the USA. I currently reside in one of the 48 mainland states. Not saying which 'cause, I know I'm hot, but I don't want a bunch of stalkers, thank you very much.
Anyways, back to my birthday. As of recently (as in within the last year), I realized that one of my absolute favorite rockstars shares the same birthday with me. He is my favorite member of my favorite band and his hair is the coolest I have seen as of late.
I have a twin brother named Jacob, who I hate with a strong passion, but not enough to kill the annoying bastard, no matter how many times I have tried. Let me tell you something about my brother; he is no support whatsoever. I had this douchebag boyfriend (who I don't count as a boyfriend 'cause we didn't do anything) that cheated on me with five other girls. Insensitive, I know. Usually you'd think that the brother would immediately go off and kick the bastard's ass, right? Well let me say something, you are 110% wrong. He just laughed in my face and said I deserved it. i don't know how I could though.
I'm chatting with some friends and my computer's being a bitch. I'm gonna finish the rest of this later. Tah!
And now, some pictures to

brighten

your day
My favorite band ever: My Chemical Romance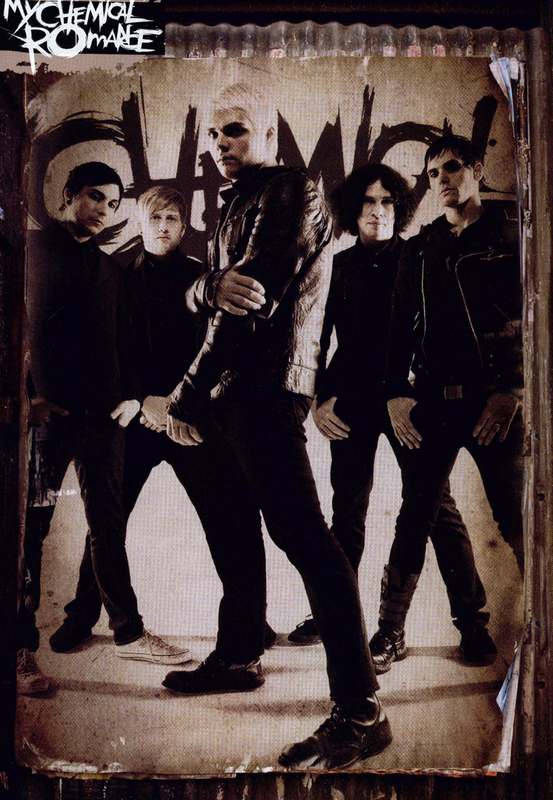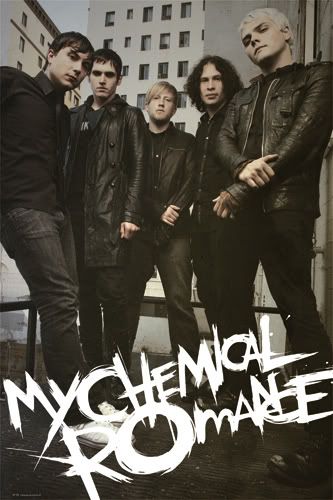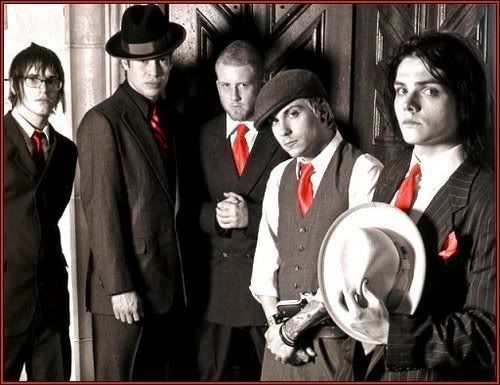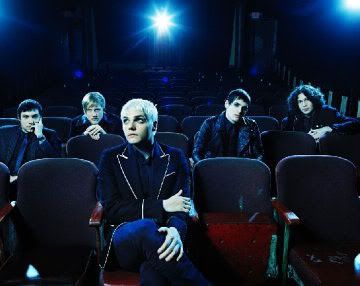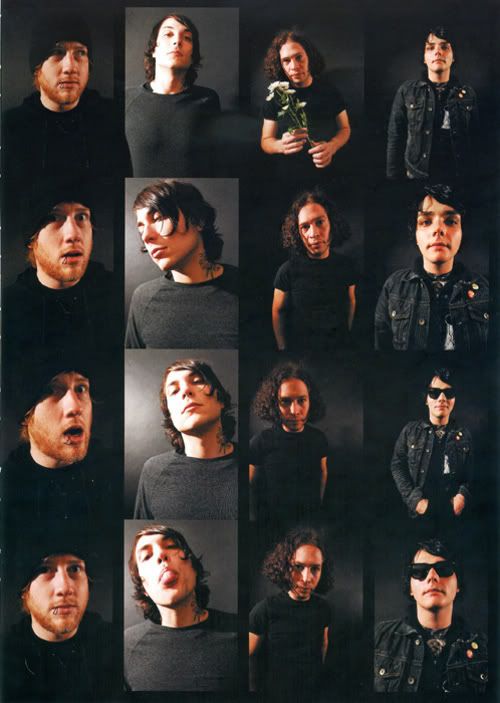 I guess Mikey didn't want to go into the photo machine, eh?
And now the members of the dearest MCR:
Gerard Way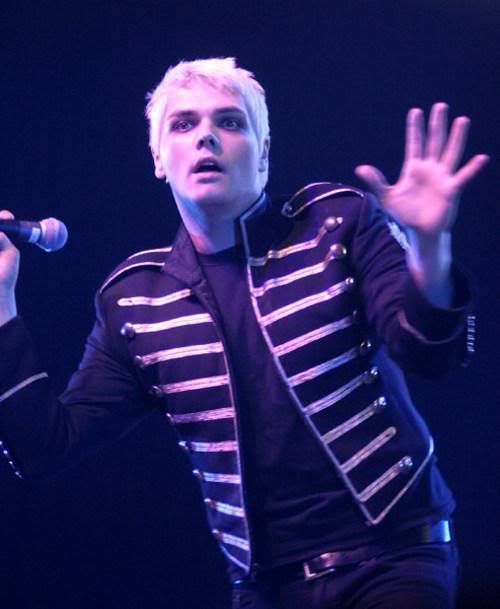 Sorry. I couldn't resist. He looked hilarious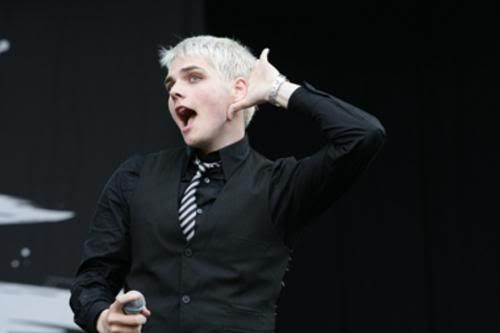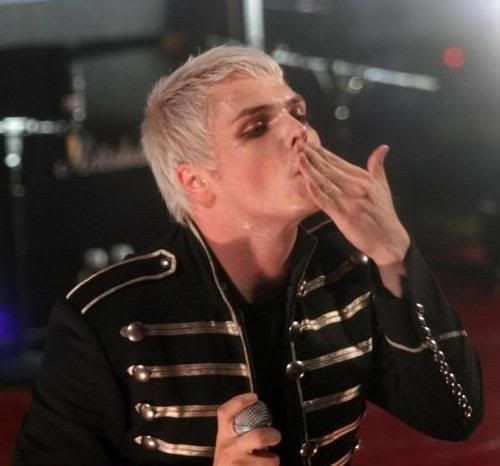 Ray's in the background
Ray Toro ~~ By the way, this sexy man is mine (and Christa's) so

back off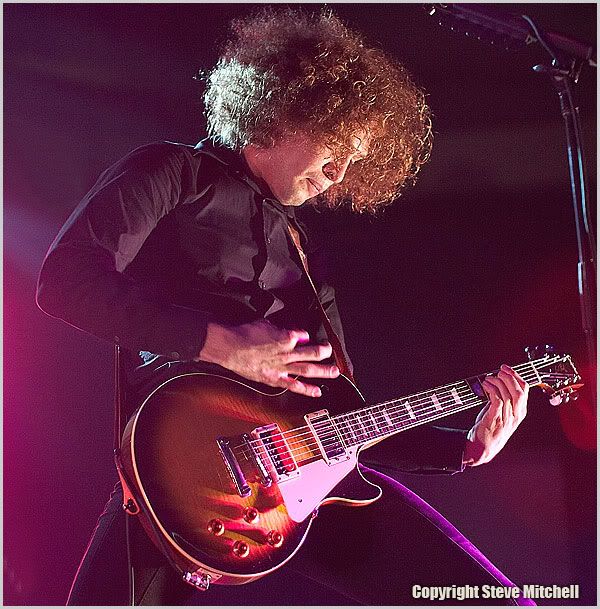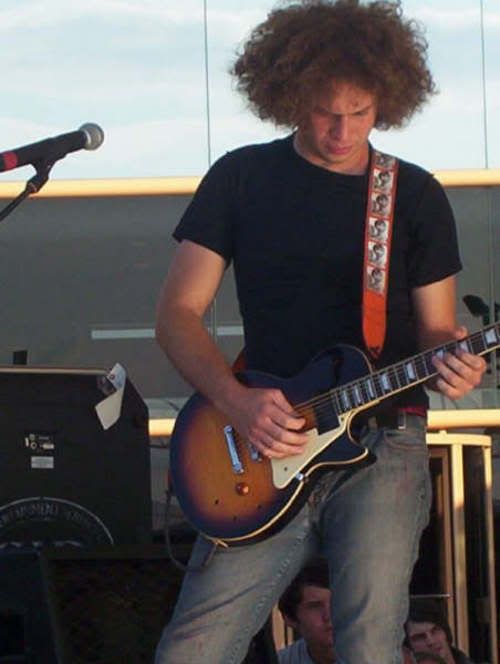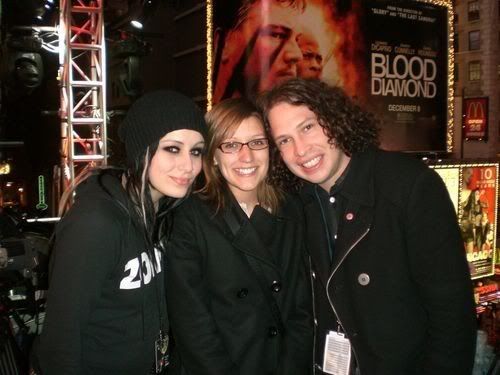 This picture is absolutely precious. Are they not just
perfect
together?!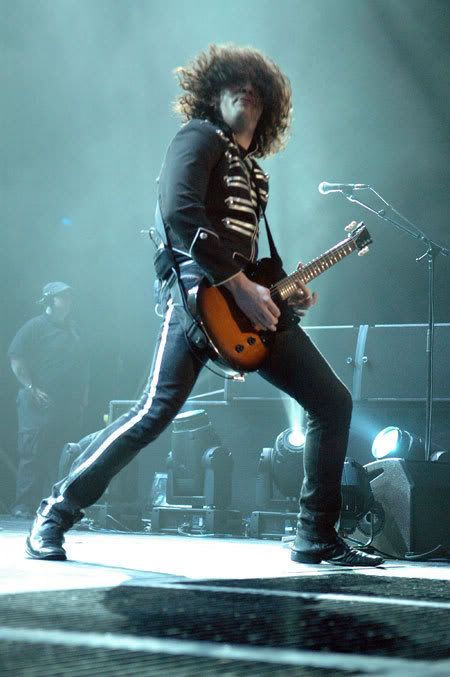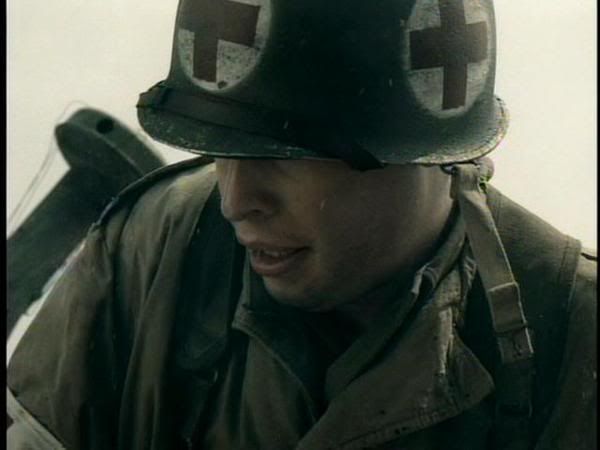 This man is truly the
sex
. If you looked under "Drop-Dead Sexy" in the picture dictionary, his picture would be there.
Frank Iero ~~ Dedicated to my lovvie,

Midnight Madness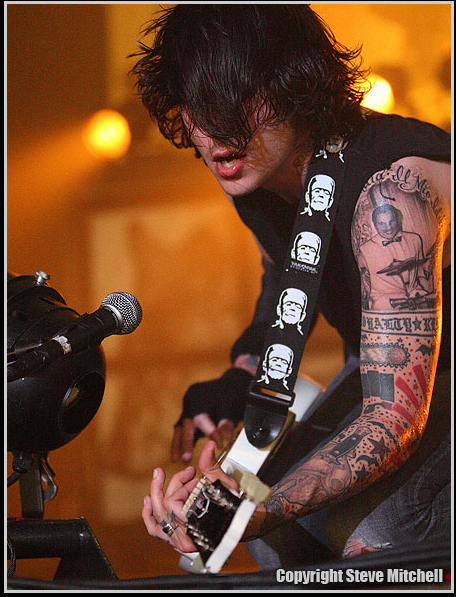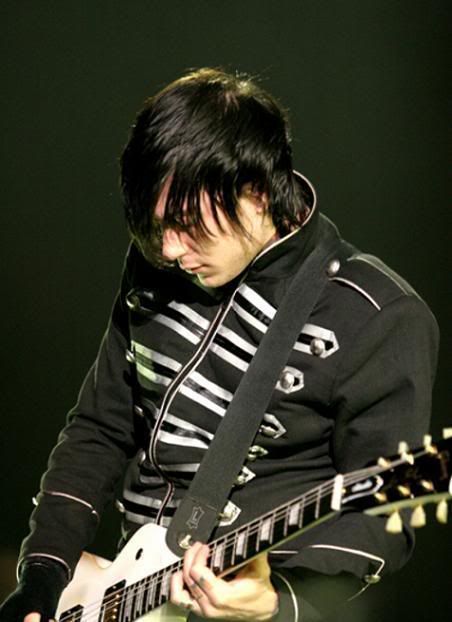 I was like, "Is that Frank? Oh well, this pic's adorable"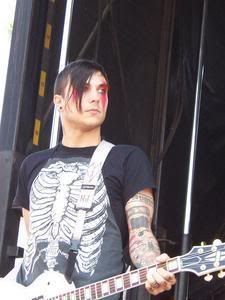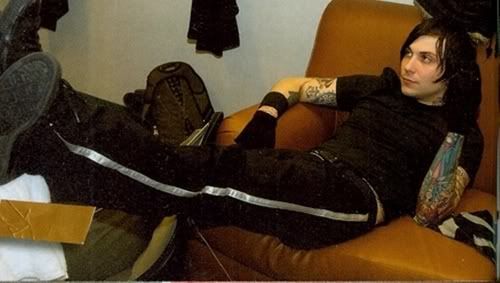 And this picture is of both mine and Midnight Madness' favorite members:
Gorgeous, are they not?
Mikey Way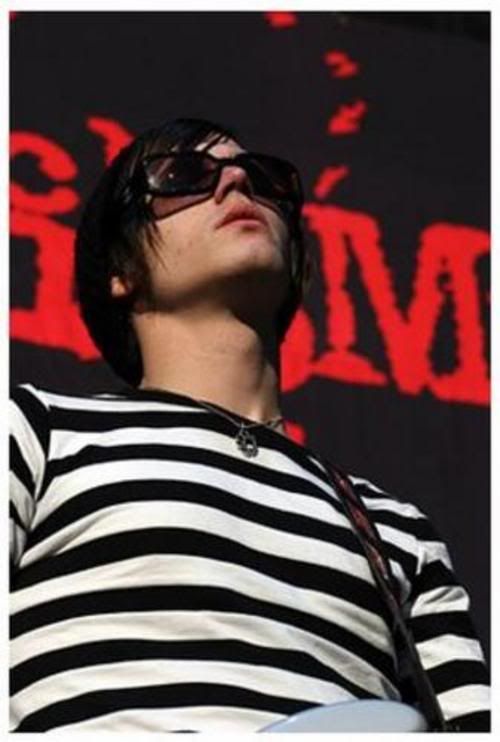 Yum~
Bob Bryar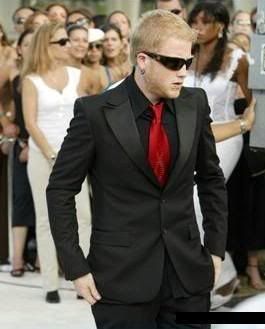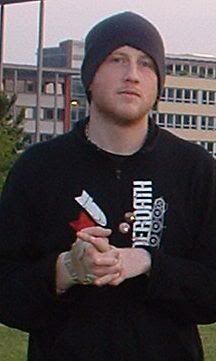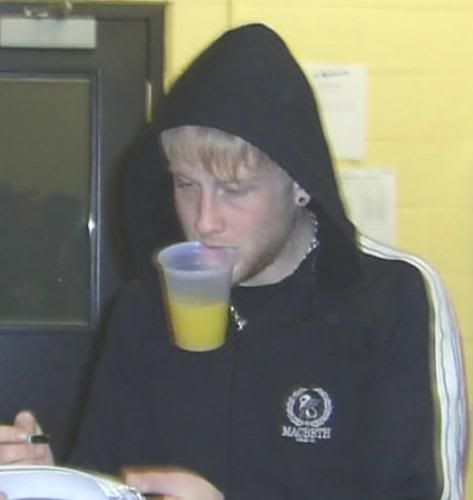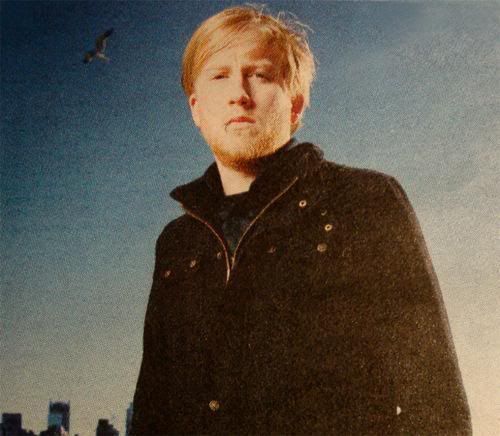 He looks like a super hero
Lol. It's funny how much he sucks at drawing
But I still love him!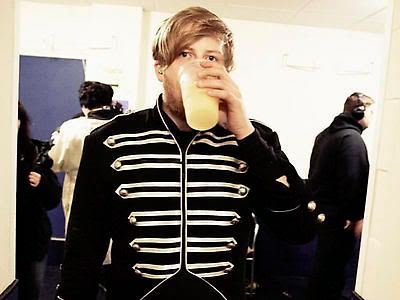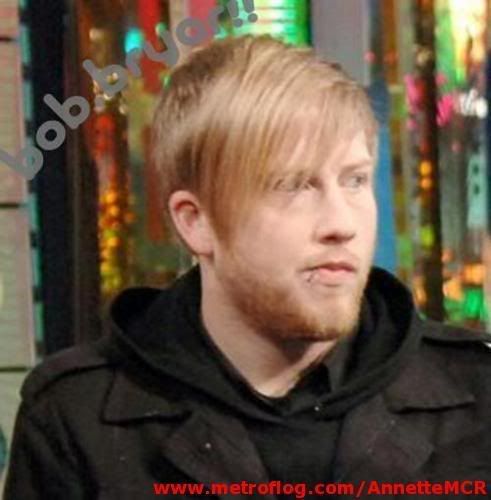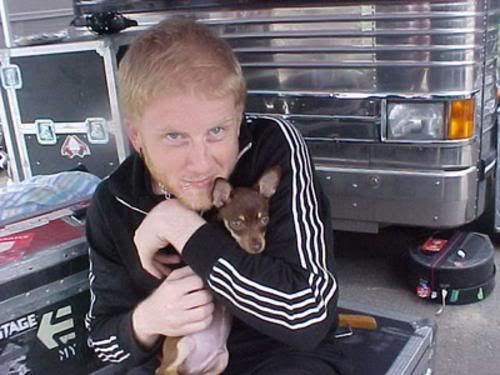 Isn't his smile absolutely darling?? He's so adorable X3 I love him!!