Kirsten;
Name:

kk.


Age:

27


Gender:

Female


Location:

the booonies.

Contact
PM:

Friends:

MSN:

N0PEE=D


AIM:

kirstybbyx3


YIM:

kirstybbyx3 (same ID as my aim, i kno.)


ICQ:

IC whattt?


MySpace:

http://www.myspace.com/twilightambiti0n_vampx

About
I'm Kirsten.
I'm almost sixteen.
I'm a sophomore.
I have 3 bestfriends; eric, genora & ash.
I have a heart you'll never have.
I'm really short.
I'm quite blunt.
I'm a huge smartass.
I'm usually loud, regardless of where I'm at.
I'm never alone.
I loathe being alone.
You'll only lie to me one time, if that.
I argue until I get my way.
I'm often looked down on.
I'm very bitchy, apparently.
I don't care what you think of me
I'm going to live my life the way I want too.
I don't listen to anybody other than my conscience.
I get annoyed quite easily.
I'm a grammar freak.
I have a freaky obsession with razorblades.
Gerard Way never fails to amaze me.
I'm an alabama fan; rolllfuckingtide!
I'll let you know if I don't like you.
I've come to realize that I really don't have a say in my life, whatsoever.
I don't like being judged on how I look or act.
I can be really optomistic, but yet pessimistic.
I always go after things, even if I can't have them.
I can be mean, if your on my bad side.
I'll admit, I'm pretty stuck up about certain things.
I'll never admit when I'm wrong, I'm a booth.
I have bad trust issues.
I'm a simple person and simple things please me!
I can handle the truth! can you?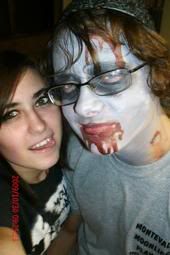 "my hearts like an open book, for the whole world to read, sometimes nothing, keeps me together at the seams." -motley crue.
MEHH MUZiiK!!!XD
my chemical romance. a day to remember. paramore. bullet for my valentine. papa roach. aerosmith. adam & andrew. avril lavigne. the white stripes. from first to last. three days grace. evanescence. metallica. guns n roses. pencey prep. kid rock. plain white t's. NLT. AFI. roses are red. linkin park. fall out boy. motley crue. the ramones. muse. aiden. boys like girls. cute is what we aim for. sum 41. HIM. nine days. simple plan. mute math. nickelback. the redjumpsuit apparatus. mayday parade. alesena. the almost. slipknot. korn. fly leaf. madina lake. finger eleven. yellowcard. rise against. silverstein. taking back sunday. the acadamy is.. underoath. A7X. blink 182. green day. misfits. +44. atreyu. scary kids scaring kids. good charlotte. 30 seconds to mars. black flag. kill hannah. senses fail. hellogoodbye. panic! at the disco. the click five. crossfade. the klaxons. norah jones. the used. cartel. trapt. stone sour. McFLY. buckcherry. the fray. augustana. journey. iron maiden. mudvayne. rob zombie. smashing pumpkins. and lots more..
Gerard Arthur Way is my hero. Because of him, I'm alive to this day, because him, I look past all the bad things in my life and keep my head up high! I used to be majorly suicidal, to the point I was cutting myself, writing poetry about how much I wanted to just die, how I wanted to end it all, where every little thing made me upset, where I thought no one cared; but then this man came into my life, this 31 year old man saved my life with his music, his quotes, his message. His message was to not be afraid of anything and to not take anyone's shit! He's inspired me to stay alive, to love who I am, to love who others are! There's a reason why there's over 50 pictures of him on my walls, why I have all his cd's and all his lyrics printed out; I want to be reminded of why I'm alive, who saved me! My Chemical Romance, because of that band, that music, Gerard Mikey Frank Bob & Ray! I'm a proud member of the Black Parade! I'm a proud Vampire! I'm proud to scream I'M NOT OKAY! I'm proud of me! April 18th, 2007 I saw them live in Pensacola, Florida; Honestly that was the best day of Mine & Savannah's lives. We even lost our voices, I cried through the whole concert because I was so happy, my first concert happened to be my favorite band, I got to see the one who saved my life right there in front of me in person singing his heart out just to make his fans be happy and to be proud of themselves! You can call him a fag, or what ever you want; You can make fun of me for standing out because of what I've been through and for being thankful to him, I don't care, I know what he's done, and I know what he's going to continue doing! Gerard Way has been sober for almost 4 years, and soon he's to be a father, I consider that child to be lucky, because he/she is going to have the most loving caring father a child could ever have, I hope that when they grow up, they take intrest in their fathers accomplishments and all the lives he has saved! He will always be my hero, and nor will I ever forget the day I first heard his voice on my stereo, the day I went to pick up the crimson stained razorblade and his voice came to me in my head telling me it's not the way. All my scars remind me of how I was saved "I'm gonna show my scars and give a cheer to all the broken!"; He's been through it all, drugs, alcohol, he's been rock bottom; Now he's better and showing the world that there's more to life than all the bad things! He will always be the black parade, the one who gave three cheers for sweet revenge, and the one who gave his bullets for love; He will always be Gerard Way,
the man who saved my life!
Photos