teen spirit.
Name:

vivree.


Age:

29


Gender:

Female


Location:

peter criss

Contact
About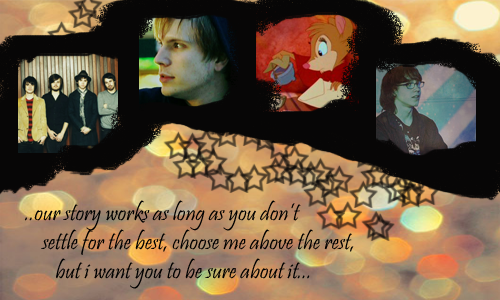 i like to listen to:
the academy is...//amy winehouse.//the beach boys.//the beastie boys.//the beatles.//cat stevens.//death cab for cutie.//the dresden dolls.//duke special.//elton john.//fall out boy.//green day.//guns n' roses.//kaiser cheifs.//kate nash.//the killers.//kiss.//lily allen.//nirvana.//noah and the whale.//panic! at the disco.//peter criss.//queen.//snow patrol.//steer clear.//the white stripes.
i'm mainly on the chamber WAYT.
i like music but i much prefer film. i've always loved movies, and as i've grown older i've just loved them more and more. now i'm learning more about the movie-making process and what makes a good movie.
i love all kinds of movies but animation's my passion. i grew up watching animations by disney and don bluth and now i've found many more inspiring animations and still love the craft as much as i ever did.
i've seen some amazing movies so far, learned about some amazing directors, producers and actors, and i'm always looking for more.
i also love art. i'm drawing most of the time, and i hope to study art after i leave school, preferably in paris.
i adore paris. it's a part of the world that owns my heart after a beautiful childhood spent there. it's the place i see as a distant home, and i'll make my way back there one way or another.
the few people i truely love and adore mean the world to me and i'd do anything for them. even though a lot of them are far away.
i'm not sure if i look up to peter criss, but i can relate to him. i understand his choices and i probably would have made them too.
i'm self-concious about the way i look most of the time but i've always liked my eyes. i consider myself a good enough friend, because if you haven't hurt me i'll do anything in my power to help you.
i love tea, and lately i love doctor who.
"The people I should love, I hate. And the people I hate..."