Imnotokay4411
Name:

Maya


Age:

29


Gender:

Female


Location:

I don't wanna talk about it

Contact
About
QUOTE OF THE WEEK
With the rock

underneath

my feet
I finally arrived to the

spot


Where your soul has

died

.
And in the

silence

;
It became very

clear


That

you

had
Long ago

disappeared

.
But if the

silence

has


Taken

you then I hope
It takes me

too

.
It's hard to stay

awake


When all you

want

to
Do is fall

asleep

.
Where you can

dream


A million

miles

from here;
The place where

you


Would be

near

.
A

place

where I could
Shout your

name

and you
Would shout

mine

.
A place where our

hands


Could be

intertwined

.


But

then it started to
Get

dark

.
So I

trudged

back to
Where my car was

parked

.
No

closer

to anything more
Though, you my

lover

,
I will always

adore……
I put together this poem. It could be about My Chemical Romance, though thats not what i made it for.
http://kevan.org/brain.cgi?Georgie-yo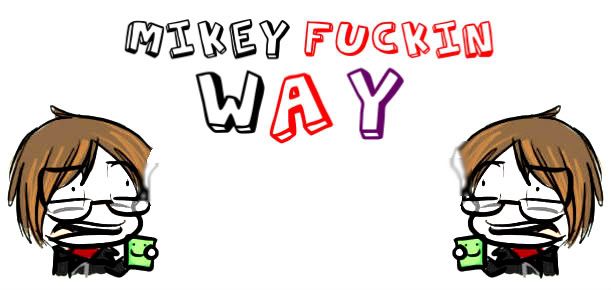 Stuff I Like
Chemical Romance, Art, My cell phone, Steven's Untitled Rock Show, Marilyn Monroe, Black & White photos of my heros, Volleyball, Darkness, My Bicycle, Miguel!!!!!!!, Timmy Poop, Guitar Hero, Uncle Curtis, Bubble Gum, The guitar, being a Vegetarian, Movies, Poetry, Friends, Mindless Self Indulgence, Mikey Way!!!, Paramore, Youtube, Stephine Meyer, Audrey Hepburn, James Dean, Bob Dylan, Grace Kelly, Peter Pan, My sis, The Whitest Kids You Know, The Ab Lounge........ Yupp thats about it!!
Stuff I Don't Like
pop music, hunting, sunburns, crappy computers, soccer balls, waking up early, montana, puking, dying in the abyss, fire, fights.......
My Chemical Romance
+880________________________________
_++88__ROCK ON MCR, I LOVE U________
_++88_______________________________
__+880_________________________++__
__+888________________________+888_
__++880______________________+888__
__++888_____+++88__________+++8___
__++8888__+++8880++888___+++88___
__+++8888+++8880++8888__++888____
___++888++8888+++888888++888_____
___++88++8888++8888888++888______
___++++++888888888888888888______
____++++++88888888888888888______
____++++++++000888888888888______
_____+++++++000088888888888______
______+++++++00088888888888______
_______+++++++088888888888_______
_______+++++++088888888888_______
________+++++++8888888888________
________+++++++0088888888________
________+++++++008888888_________
_______+++++++0008888888_________
______++++++++0008888888_________