SanityStoleByPenguin
Name:

Sarah Mccormack


Age:

27


Gender:

Female


Location:

Bailieboro ireland

Contact
About
hey well im 14 . im irish.. yayyy.. lol .. im in second year in bcs (the joys) and well i have 3 sisters and 3 dogs... tara titch and juno..
emmm i luv my friends but they dont luv Mcr but my sister likes them and i luv all the merchandise... i luv buying it.. its sooo awesome! ye so thas preety much it... My fav song from mcr is famous last words!!!!
leave me a message or whatever! xxxx
Muzac:
My chemical romance, Paramore**Three days Grace** The Used**NIckleback** Fall Out Boy**Escape The Faith**30 seconds to mars***Drowlin Pool**Linken Park****From First To Last**Yesterdauys Rising**the Maine**Mindless Self indulgance**Bullet for my Valentine**Avenged Sevenfold ***Go Audio**Blink 182 and a load more... Like Mayday Parade and people like that..
Gerard Way is like Hot Chocolate only Hotter
Mikey Way is like a Milkey way bar only Sexyer.
Frank Iero is like a Fire only you'd willingly put your hand on him
Bob Bryer is like a puppy dog only griisssllyyyer.
Ray Toro is like Cotton Candy floss only frizzyer.
My Chemical Romance. Fan.
♥My Brutal Romance♥
♥My Beautiful Romance♥
♥My Innocent Romance♥
♥My Childish Romance♥
♥My Miserable Romance♥
♥My X-Rated Romance♥
♥My Harlequin Romance♥
♥My Selfish Romance♥
♥My Chemical Romance♥
Freard is HOT
Some Movies i Like :
Twilight ( the best film of 2008/2009
Pirates of the Carrabien (all 3) who doesnt like drunk pirates??
Pride and Predjudice<< not sure if i spelt it right or not !
Rent>> awesomeness! hahahaha
theres a load of other ones too just cant `think of them!!!
Now heres some awesome pictures of awesome bands :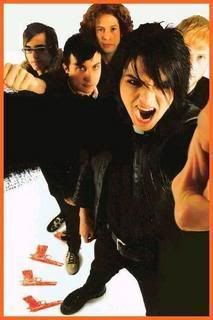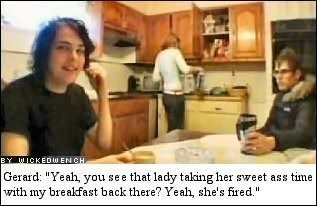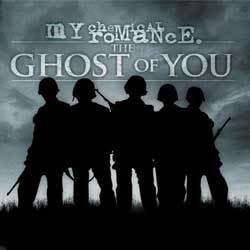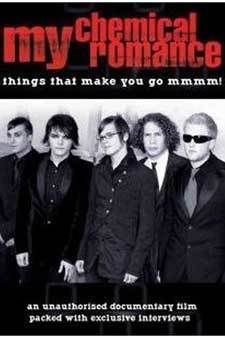 20 Ways to Tell If You're a Real My Chemical Romance Fan
1.Real MCR fans know more songs than "Welcome to the Black Parade."
2. Real MCR fans know Gerard Way's brother's name.
3. Real MCR fans shout 'HELL YES!' when one of their songs comes on.
4. Real MCR fans punch their cousins/brothers/sisters/parents/friends for dissing Gerard's hair.
5. Real MCR fans know the names of everyone in the band and what they do.
6. Real MCR fans shop for hours just to find a jacket like the band's have for a MCR concert.
7. Real MCR fans take time to right on the front of all their underwear "I love Gerard."
8. Real MCR fans ask their mom "What's for dinner?" and are disappointed when she doesn't say Gerard.
9. Real MCR fans start smoking because they think they will be HAWT like Frank and Gerard.
10. Real MCR fans ask for Bob the Bryar for Christmas and cry when they don't get him.
11. Real MCR fans do dirty things with their MCR action figures and are proud to admit it.
12. Real MCR fans sleep with a picture of MCR and actually have to wipe off the drool stains.
13. Real MCR fans piss themselves when they see them... on the televison.
14. Real MCR fans would admit to let them rape you.
15. Real MCR fans go in a rendition of Three Cheers For Sweet Revenge when they hear a guy in a restaurant say "So Long"
16.Real MCR fans often zone out, listening to MCR in their heads, and when someone asks them a question they scream the lyrics they were just thinking of.
17. Real MCR fans giggle everytime Gerard Way says the word 'way' in his songs
18. Real MCR fans will scream "HAPPY BIRTHDAY, **insert bandmember's name here**!!" on his birthday, regardless of how quiet the room is.
19. Real MCR fans watch "Life On the Murder Scene" twice a day then apologize to plants.
20. Real MCR fans have this on their profile.
♥My Chemical Romance♥
It takes 1 sec. to love their looks
It takes 1 hr to love their songs
It takes 1 day to fall in love with them
It takes 1 lifetime to forget them
.......\...../
........\.../
.........\./
.........|||
.........||| RIP PANSY! PUT
.........||| THIS ON YOU PAGE TO
.........||| REMEMBER PANSY WHO
......../|||\ WAS MURDERED BY AN MTV
......./|00|\ TECHNICIAN!! ="[
....../||00||\
...../|||/.\|||\ R.I.P PANSY!!!
..../|||/...\|||\
.../|||/.....\|||\ <<<<< pansy was frank iero"s guitar
.(....\............../....)
. \....\........... /..../ ♥ ♥ ♥ ♥ ♥ ♥ ♥
...\....\........../.../
....\..../´¯.I.¯`\./ ........My
..../... I....I..(¯¯¯`\
...I.....I....I...¯¯.\...\ ....cHeMiCaL
...I.....I´¯.I´¯.I..\...)
...\.....` ¯..¯ ´.......' ....RoMaNcE
....\_________.·´
.....lo o o o o ol .. Rocks!!!
.....lo o o o o ol..
92% OF TEENS MOVE ON TO RAP MUSIC. IF YOU ARE PART OF THE 8% THAT ROCK OUT EVERYDAY, PUT THIS IN YOUR PROFILE.
92% OF TEENS WOULD BE DEAD IF ABERCROMBIE AND FITCH DECIDED BREATHING WASN'T COOL. PUT THIS IN YOUR PROFILE IF YOU ARE ONE OF THE 8% THAT WOULD BE LAUGHING HYSTERICALLY!
95% OF THE KIDS OUT THERE ARE CONCERNED WITH BEING POPUALAR AND FITTING IN. IF YOU ARE PART OF THE 5% WHO AREN'T, COPY THIS, PUT IT IN YOUR PROFILE.
DIE HARD TRUE MCR FAN:
-Knows the true meaning behind "Helena" and what it means to Gerard and Mikey.
-Knows what MCR means.
-Knows what Gerard has been through.
-Knows that they had a former band member, Matt Pelissier, drummer.
-They love and care about their fans very, very much.
-Believes in the Black Parade.
-Isn't afraid to sing one of MCR's songs out loud in public.
-Is proud to be one.
-Takes Gerard's wise sayings seriously.
-Knows they aren't alone.
-Isn't a person who shops at Hollister and Abercrombie all day and wears pink clothes and a bunch of girly make-up everyday.
-Doesn't consider MCR emo.
-Doesn't like them just because they heard their song on the radio or saw 1 or 2 music videos.
-Knows they have 3 albums.
-Doesn't like them just because the lead singer is hot.
-Hates MCR fan posers.
-Has been to or wants to or is going to an MCR concert. (Projekt rev. counts)
-Isn't a person who wears black just because it's in style.
-Goes CRAZY when MCR is on the radio or tv
-Knows how the band really started out.
-Knows how much Frank loves New Jersey.
-Thinks MCR aren't rich vampires.
-Be yourself
They told us they weren't Okay. They told us vampires would never hurt us. They want us to say our Famous Last Words and join The Black Parade. They said the mirror wasn't big enough for the both of them. They cried for the ghost of us. They introduced us to Helena. They don't love us like they did yesterday.
Put this on your profile if you love My Chemical Romance!
Ten Commandments of the Black Parade
1. Thou shall accept death as it comes
2. Thou shall march and sing without question
3. Thou shall face fear and regret
4. Thou shall not let go of thy dreams
5. Thou shall give blood
6. Thou shall not fear thy sins
7. Thou shall protect thy brothers in arms
8. Thall shall darken thy clothes
9. Thou shall walk this world alone
10.Thou shall Carry On!
THE 10 COMMANDMENTS OF MY CHEMICAL ROMANCE:
1. Thou shalt not put a gun to thy lover's head.
2. Thou shalt be willing to die for love.
3. Thou shalt seek revenge on those who wrong you.
4. Thou shalt be a demolition lover.
5. Thou shalt unleash the bats.
6. Thou shalt protect thy lover from everything. (even vampires)
7. Thou shalt respect the lord, Gerard.
8. Thou shalt sing the holy hymns of My Chemical Romance.
9. Thou shalt see beauty in bloody love.
10. Thou shalt rock hard.
MY CHEMICAL ROMANCE BIBLE
x. Gerard Way puts the "laughter" in "manslaughter".
x. Mikey Way can slam revolving doors.
x. The chief export of The Frank Iero is pain.
x. Mikey Way counted to infinity...twice.
x. Frank Iero can divide by Zero.
x. The grass is always greener on the other side. Unless Gerard Way has been there, then its soaked with tears and blood.
x. The Frank Iero once visited the Virgin Islands. They are now The Islands.
x. Gerard Way sleeps with a night light. Not because Gerard Way is afraid of the dark, but the dark is afraid of Gerard Way.
x. Mikey Way is the reason Waldo is hiding.
x. A Tsunami is water running away from Bob Bryar.
x. Bob Bryar doesnt get brain freeze. Slurpees know when to back the fuck off.
x. Bob Bryar does not teabag the ladies. He potato-sacks them.
x. Mikey Way can speak braille.
x. Frank Iero jacks off to Monster Trucks.
x. Jeeves asks Ray Toro.
x. If The Bob Bryar is late, time better slow the fuck down.
x. Geico saved 15% a year by switching to Gerard Way.
x. Ray Toro went back in time and stopped the JFK assination by catching the bullet in mid air. JFK's head just exploded in sheer amazement.
x. Gerard Way has to sort his laundry into three loads: darks, whites, and bloodstains.
x. The most effective form of suicide known to man is to type "Frank Iero" into Google and hit "I'm Feeling Lucky!"
x. Jesus walked on water. Gerard Way walked on Jesus.
x. When Frank Iero gives you the finger, he's telling you how many seconds you have left to live.
x. Gerard Way doesn't use pickup lines, he simply says, "Now."
x. Mikey Way is like a Tsunami, if you can see him coming it's already too late.
x. Bob Bryar ate the Stay Puff Marshmellow man.
x. Ray Toro didn't vote for Pedro. He deported him.
x. When God said, "Let there be light", Gerard Way said, "say please."