BabySkulls356
Name:

Izzy


Age:

26


Gender:

Female


Location:

Indiana

Contact
About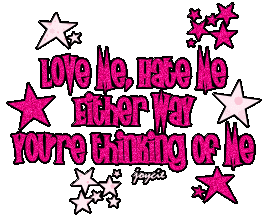 If you want my number, just ask me


Status: Married to the most wonderful man on Earth.

Listening to: "I Heart Hello Kitty"- Blood On The Dance Floor
Online.

Killjoy Name: BabySkulls356

My name is Isabelle Pritchett (Edwards), I'm from Germany, but live in GC, Indiana, in America.

I'm 20 years old, as of 12/08/2014

Taken. Kenneth P. <3

Luv u Baby!
TTY soon!
Well...uh...Long listing I suppose...

About Me:
Hmmm... I'm a natural blonde with black hair, I'm 19. I'm happily married. I am a little paranoid/superstitious. Oh, Did I mention.... I'M OBSESSED WITH MUSIC AND WRITING! My Chemical Romance saved my life, I have my branch in the MCRmy (unverified by Party Poison) Called "Baby Skulls' Twisted Emo's" Well, now I've mentioned it.

Well, let's see.
I have a long list of "about me stuff" for the bio's....but do you really want to hear it? Okay...
Black hair,
19,
5' 6",
born in germany,
lived in U.S 16 1/2 of my 10 years,
Love mcr,
bisexual,
Love to write and sing
love my husband,
love my daughter,
love Vampirac shows
my mom committed suicide back in '06 on the anniversary of 9, 11,
dad is still alive
miss my awesome surrogate granny Ann Rambo,
want a tattoo,
Cashier at Walmart


Is it weird that I love to do random stuff? Seriously, I do. It's just a part of who I am...
Yes, it can get in the way sometimes. But hey, life does that all the time anyways...right?

Now, I have a few little 'issues' that I think you should be aware of; Don't worry, nothing to be overly worried about:

1.) Anger Issues-Easily annoyed, but almost never hold a grudge.

2.) Writing complex- Though someone could end up sending me a message in IM/ Text form, or just something short, I usually end up writing this REALLY long (for the subject at hand) response. It can be kind of annoying, just to give you fair warning...

3.) Grudge Avoidance: I try not to begrudge someone about anything, but I have a hard time forgetting things. So, while I may not outwardly hold it against you...don't assume I've forgotten"

See, told you I had issues...
So, uhm...
Yeh, that's all I'm telling you...


Photos