xFrankie_Is_My_Namex
Name:

Frankie (no joke lol)


Age:

29


Gender:

Female


Location:

panic!ville... in my mind

Contact
About
will everyone re-add me on mibba? i have the same name
<3
Hey everyone, I'm Frankie and im here to spazz it up BITCHES!!!! I AM A GIRL AND NO I WAS NOT ONCE A MAN!!!! JESUS!!!!
HI! i am a spazz... i like music... good music not bullshit rap. i like emo and screamo... yep I am sooo INSANLY obsessed with Ryro (ryan ross) I hate the term yo mom. fuck that... I FUCKING LOVE TO CURSE!!! CURSING IS THE FUCKING SHIT! ummmmm.... i am really clueless, ha.. woah... i have like a -1000000000000 attention spand.
I am pretty damn interesting right?
my chem was my first love, i still love them now, they are INCREDIBLE!!!!! Frank is the shit! hes my skittle and moutain dew buddy. Ha, frank and frankie, pretty pimp... huh? my chemical romance saved my life... no joke
----
STOP!!! ITS FRANK-TIME!!!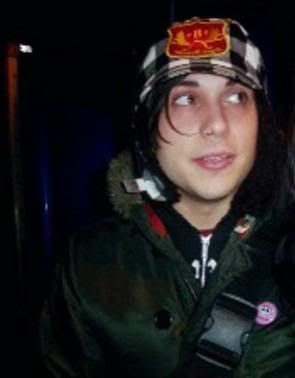 ---
TALK TO ME IF YA WANT!!!
PURPLE!!!
from:Frankie
ps LLAMA