Ms. Bella Brightside
Name:

Bella.


Age:

31


Gender:

Female


Location:

Rockford IL, United States

Contact
PM:

Friends:

MSN:

nikkimustang77@hotmail.com


AIM:

Nikki Mustang 77


MySpace:

www.myspace.com/nikkimustang77

About
____

Back With A Vengeance.
Greetings unto you, reader of this page. You will probably be wasting a small amount of your lifetime by reading this, even though some of it might be considered useful during the period of my existence. Have fun with that.

My name is Bella. Rather, that is what I'm called on here...my legal name is Sarah. I would prefer that you call me Bella, though. Most everybody does on here. I live in a town called Rockford. We are one of about seven Rockfords existing in the United States, so it's nice to tack an "Illinois" at the end of it. I live about an hour northwest of Chicago. I think.

While in Rockford, there's nothing to do. When you're done with school, you pretty much either go home or hang out at a friend's house. We have things like parks, laser tag, paintballing, and gocarts, but most of the time these aren't open during the school year. Lucky us. Instead, we hang out at Best Buy, Borders, Walmart, or school... Guitar Hero is our God.

I'm addicted to music in the worst sense. I have about four addictions at a time. The never changing one of this is

Avenged Sevenfold

. I live for my next concert, even though I don't normally know when that is. I can't leave the house without makeup and eyeliner on my face. As my friend so aptly puts it, "Eyeliner is my safety blanket so I can stay in my comfort zone." I'm obsessed with anime and manga. I quite literally cannot function without a computer [as proven when my internet died for a week and a half]. I'm a Junior in High School. I am an AV/Sound Technician for plays and miniature performances at my school. Most of my best friends live away from the town I'm confined to. When I grow up, I aspire to be an audio engineer. I punched my teeth through my lip when I was sixteen, and I think I'll have the scars for the rest of my life. Flaming Converse are my shoes of choice. I like wearing black clothing with hoods, and am rarely caught without the My Chemical Romance hoodie on my back.

Music.
The Academy Is... Aiden. AFI. Alkaline Trio. The All-American Rejects. Angels & Airwaves. Anthrax.

Avenged Sevenfold.

Avril Lavigne. Blaqk Audio. Buckcherry. Bullet For My Valentine. Clap Your Hands Say Yeah!. Disturbed. Dragonforce. Eminem. Evanescence. Fall Out Boy. Family Force 5. Fort Minor. Good Charlotte.

Green Day.

HIM. Hinder.

I Am Ghost.

Linkin Park. Lostprophets. Marilyn Manson. The Medic Droid. My Chemical Romance. Nickelback. Panic! At The Disco. Papa Roach. Paramore. Plain White T's. Polysics. Radiohead. Rammstein. Red. The Red Jumpsuit Apparatus. Rob Zombie. Shiny Toy Guns. Soil. Static-X. Symphony X. Taking Back Sunday. Thirty Seconds to Mars.

Three Days Grace.

Tokio Hotel. Trapt. Trivium. Within Temptation. Xero Sum. Yellowcard.
There's Someone You Should Meet...
____________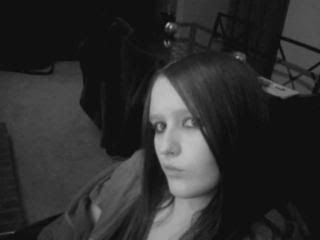 This is my Emily. She's been there for me through thick and thin, good and bad relationships, and we've endured it all together. She's my best friend in this world, and

nothing

anyone says or does will ever change that about her. The girl you see above this typing; that girl is my wife. I love her to death. We've never met each other in life before, ever. Living across an ocean kind of complicates things...but that doesn't stop us from calling each other on the phone and posting things. One of these days, I'm going to see her in the flesh, and that day will be among the best in my life. I can't thank her enough for staying by my side. I know I'd never be who I am today without her. <3


_________________________________

"If you were here, I'd never have a fear.




_______________________________________

So go on and live your life,




________________________________

But I miss you more than I did yesterday."
____