awake and unafraid.

Name:

call me Sonny


Age:

31


Gender:

Female


Location:

somewhere special

Contact
About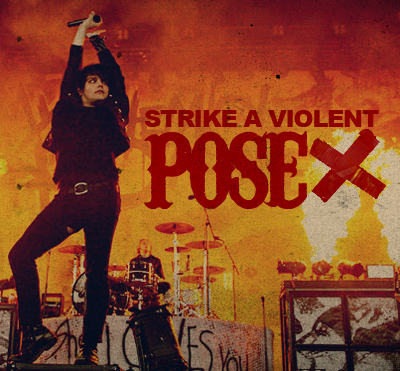 The name is
S
O
N
N
Y
.
I am a drummer and aspire to one day be half as good as Bob. He is my hero and I will love him forever.
I'm in a

band

called Plaid? Shorts
I'm me and nothing less than that. I refuse to change who I am just to please others. I'm a relatively nice person, but you really don't want to be on my bad side. My Chemical Romance and INO are literally

my life

I have very strong opinions. I'm pro-choice, strongly support homosexuality and To Write Love On Her Arms. I am also agnostic. If you have a problem with my beliefs, I really could careless. I hate people you change themselves in order to fit in with everyone else. I will never conform no matter what anyone says.
...............
I love music, its my life.
.....................................
My Music
The Academy Is...
The Almost
blessthefall
Cartel
Cobra Starship
Daphne Loves Derby
Dream Theater
The Format
From First To Last
Hellogoodbye
The Hush Sound
Jack's Mannequin
Linkin Park
Mayday Parade
My Chemical Romance (duh!)
Panic! at the Disco
Paramore
Pencey Prep
The Red Jumpsuit Apparatus
The Rocket Summer
Taking Back Sunday
This Providence
The Used
I love going to shows with my friends, I'm addicted. I've been to 15 shows and counting. =P
Bands I've Seen Live
Good Charlotte Relient K Simple Plan Jack's Mannequin Plain White Tees Panic! at the Disco Rise Against My Chem [x2] This Providence Cute is What We Aim For All Time Low The Hush Sound Boys Like Girls Hellogoodbye Cobra Starship [x2] The Academy Is... [x2] Fall Out Boy Cartel The Red Jumpsuit Apparatus Mayday Parade blessthefall Escape the Fate LoveHateHero Linkin Park Madina Lake Taking Back Sunday HIM Saosin The Rocket Summer Sherwood Armour For Sleep Paramore The Starting Line The Almost
http://www.mindistortion.tv/pocketemo/?data=2-1-6-4-0-1-0-0-0&name=Ryan
Banner by God of Death. <33
Comments
heyyy. nope, i didn't get to go to warped, but my friend almost died in the mosh pit taking a video of "misery business" for me. baha. i did meet stephenie meyer, and i got all three of my books signed, and talked to her for a bit. my friend and i saw her come in before everyone else, and that was cool. we did have to wait in line to get our stuff signed though. x] how're you?

Love, love, love. You. But....my profile is better. =]